Barnes-Miller: "This is it... I have to do this"
Broadstairs athlete James Barnes-Miller knew from the word go that snowboarding was a sport he simply had to do.
First trying out it out with friends, the 28-year-old ventured onto the slopes for the first time in 2010.
Eight years later, Barnes-Miller is now a Paralympian – touching down in PyeongChang as part of the first ParalympicsGB snowboarding team to take to the slopes.
Being born without a hand means the Kent man will compete in the SB-UL category in South Korea and, like Owen Pick and Ben Moore, will battle it out in snowboard cross and banked slalom.
But, thanks to a piece of good timing that started his journey to a maiden Games, this is far from the first time he was come across his ParalympicsGB teammates.
James in PyeongChang prep
"Three years ago, I bumped into Owen (Pick) and Ben (Moore) who had just finished competing and we got chatting, then they encouraged me to give it a go and from there I went on a training camp," he said.
"The coach said 'if you're willing to put in the effort, I reckon I can get you to the Paralympics', so now he's done his job and I've done mine I suppose.
"It was the first camp, he said he could get the team there if we were willing to work hard and that was it for me, something clicked and I knew this is what I wanted to do.
"I went home and told my girlfriend that this was what I needed to do, this is it and I have to do this, and now here I am.
"I didn't even know I could get to the Paralympics and before this Games it wouldn't even have been possible anyway."

James Barnes-Miller: Buzzing at his selection day
Growing up had bad times and good times, but I get to snowboard all year so I don't care.
Barnes-Miller has had his fair share of ups and downs, a fourth-place finish at last year's World Championships offsetted by having £10,000 of equipment stolen from his van.
For some that would be enough to end a Paralympic dream – but nobody told that to this snowboarder.
Despite missing a hand, building work has been a regular part of Barnes-Miller's life, desperate not to be held back from the big or little things in life.
"I was born without my hand, I have a twin brother so there was a complication in the womb and I haven't known any different," he added.
"It's all cool, there have been times where it's been awkward and uncomfortable without it but I can't change it, you sort of get use to it.
"Growing up had bad times and good times, but I get to snowboard all year so I don't care.
"My mum always said the main thing I can't do is hold two cups and saucers – but who uses cups and saucers anyway, so that doesn't matter!
"I used to work on building sites, there was stuff there that was harder but there isn't a lot that I can't do – there's always a way around it, you've just got to figure it out and that's part of the fun."
Joint the ParalympicsGB movement
Join
The ParalympicsGB movement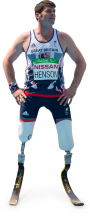 We may include relevant updates from our trusted partners, but will never sell your data on. We take your privacy seriously and you can opt out at any time Privacy Policy