Barnes-Miller looking towards global honours as World Cup season approaches
There aren't many professional athletes who begin to chuckle when asked about the most difficult moment of their career to date.
Conquering adversity with a smile has long become second nature for the PyeongChang 2018 Winter Paralympic snowboarder.
The fact he was born without a right hand and is now known as 'Stubber' amongst his friends, while twin brother Olly has the nickname 'Two Hands', is testament enough to that.
"That's how I've always gone through life," he explains with a warm smile. "I like having a laugh and taking the mick out of everything; I think that's the best way to get around everything."
I just thought: you've got two options. You either give up or get on with it.
Last autumn, as Barnes-Miller was preparing for a qualifying event in the run up to February's Games in South Korea, a group of thieves broke into his van outside a house in Cheshire and stole £10,000 worth of vital equipment, including team kit and custom-made boards.
But thanks to the support of the general public, his teammates and the various companies which reached out in the weeks that followed, his Paralympic dream came true.
Revisiting the incident 12 months later, James seems almost bemused by the notion that he might have stopped to feel sorry for himself at any point.

Barnes-Miller made ParalympicsGB history in PyeongChang
"I had loads of people calling me after the Games to say how well they thought I'd dealt with everything," he explains.
"I've spent way too much time and money to give up, so I didn't see any other option but to crack on and get everything sorted.
"If you don't pick yourself up no one else is going to do it for you."
Barnes-Miller's inspirational mindset ensured he became the first British snowboarder to compete in a Paralympic event in February, joining Owen Pick and Ben Moore in making history in PyeongChang.
While a medal didn't come his way he certainly impressed, securing a seventh-place finish in the snowboard cross and a top-ten slot in the banked slalom.
But the time for looking back is very much over.
"I've been speaking with my coach and I don't see why the podium can't be a realistic goal.
"I'm going to be in the gym, just trying to get stronger, and then it'll be straight out to Holland for the first World Cup event," he said.
"We've got a few World Cups coming up but the main target now is the World Championships in March, where we'll be trying to get on the podium.
"We're going to try and consistently get on the podium at the World Cups and then arrive fired up for the World Championships.
"I've had my month off, now I'm just ready for the winter."
As the 2018-19 season approaches, Barnes-Miller remains comfortably inside the world's top ten for both para snowboard disciplines, following a stellar 2017 that featured two silver medals at World Cup level and a fourth place at the World Championships in Canada.
Considering he had never picked up a snowboard before the age of 21 and only started competing with the British Parasnowsport team in 2015, he already has ample scope to be proud of his achievements.

Barnes-Miller is looking to breach new ground after his maiden Games in South Korea
What's more, having spent the summer training alongside British Ski and Snowboard's Olympic athletes after the merger between the Olympic and Paralympic programs, he will also be entering a series of non-disabled races in January.
"My riding has improved massively by training with the able-bodied guys," he added.
"I follow a lot of people to see their training videos – I like to take the best bits from everyone's programmes and take them to my conditioning coach. I'll say what I like and he throws it into my programme."
"It's just been incredible to work with them and it'll be interesting to see how I get on in a race.
"It's really fired me up, really got me focused again."
But whatever the winter holds, Barnes-Miller will be safe in the knowledge that there'll be plenty of time to have a laugh about it afterwards.
Joint the ParalympicsGB movement
Join
The ParalympicsGB movement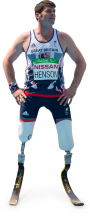 We may include relevant updates from our trusted partners, but will never sell your data on. We take your privacy seriously and you can opt out at any time Privacy Policy