Krysten Coombs is an SS6 para badminton player and is hoping to be among the first to compete in the sport as it makes its debut at the Tokyo 2020 Paralympic Games. In the latest instalment of 'tbh' Krysten tells us about his early influences, his time on Game of Thrones, and his friendly rivalry with fellow SS6 player Jack Shephard.
I remember vividly when I was younger that my parents encouraged me to watch a film called The Station Agent.
It starred Peter Dinklage who I guess most people will know now from Game of Thrones and, at the time, it was probably the only film that I'd seen that had someone with dwarfism playing a character that was a central part of the film.
He didn't seem like he was there as a token character, he wasn't there to be made fun of, he was a key part of the film.
That had an impact on me. It was good to see it. It educated me as a person and, to see someone like myself on screen, was important.
It's weird because years later I got into acting myself by chance and started doing panto and then did a film called Get Santa.
After that an audition came up to be in Game of Thrones for one of their infamous episodes 'The Purple Wedding.'

Krysten on the Iron Throne
The audition was crazy, I just went for it and got the part but there were people that were disgusted by it and didn't want to do it.
Anyway it was an episode that featured Peter Dinklage quite a lot so he was on set and I probably should have said to him that I'd seen The Station Agent and that it had a big impact on me but I didn't mention it for some reason and just had a picture with him instead.
It's amazing what people like him have done for representation of dwarfism. He's in so many films and shows he's a proper part of them and I think, in a lot of ways, that's kind of like what sport and the Paralympic Games does.

Krysten Coombs with Peter Dinklage on the set of Game of Thrones
There's actually a lot of parallels between acting and playing sport that have helped me in my career.
Little things like waiting around to perform is the same in sport and then you go out there and there are lots of people watching you and you have to make sure that you get it right in that moment.
And then there's the GB team and there's the players and the coaches and physios and they all play into your success in the same way that the other cast members would or the technicians. I think all of that is just part of me now.
I'd like to think that having my class in badminton at the Paralympics will do more work towards helping representation and that I can be a part of that.
But it's going to be tough for me because Jack (Shephard) is the world number one in our class and he's also my best friend.
Krysten and Jack talk rivalry and friendship
It was about a year ago that we found out that only one of us is likely be able to go. We have always just said it is what happens so let's just get on with it and make sure that the one that does end up going is at the best he can possibly be.
Being one and two in the world puts us in a really strong position and the truth is that you don't always get what you want in life or in sport.
We're just lucky to have each other as friends and to have each other to play against and drive each other forward. It's a true friendly rivalry.
If it was Jack then of course I'd still be disappointed because it's what I want to do as well. But, at the same time, I'd still be pleased because it'd be the next best thing to competing to see my great friend go to the Paralympics and to see him achieve his dreams.
Ultimately, it's a real privilege to be able to play with such great friends across the whole programme as we work towards the Paralympic Games and to create greater visibility for people with dwarfism in the process.
Joint the ParalympicsGB movement
Join
The ParalympicsGB movement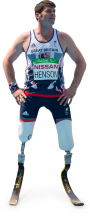 We may include relevant updates from our trusted partners, but will never sell your data on. We take your privacy seriously and you can opt out at any time Privacy Policy