Hollie Arnold has won every major title available to her in the F46 javelin - including gold at Rio 2016 - as well as breaking the world record on multiple occasions. In this 'tbh' Hollie tells us of the sacrifices that went with her success and the toll they can take.
People see athletes competing or on the podium and there's rarely a chance to see what goes into getting to that point.
When I was 16 my Mum and Dad uprooted their lives for me and we moved to Wales.
A few years after I'd competed at my first ever Paralympics in Beijing my Dad sat me down and asked if I wanted to carry on and get to the London 2012 Paralympics.
I did. I was so sure and so focussed on that goal that they knew that leaving Grimsby and getting the coaching on offer in Wales was the right thing to do for my career. But It was a big upheaval and sacrifice on their part.
They had to change jobs and, for Mum, it was a struggle and it had a massive impact on her mental health – that all came to a head in 2013 when she was diagnosed with depression.
I haven't really spoken about it much openly for various reasons, but it was a tough time to have to train and mentally prepare yourself for the worst and also the best.
She was in such a bad state that they didn't think she'd come out of the home she was in. Luckily for us she did – they call her a miracle – and looking at her now she's my Mum again.
But, as an 18-year-old, that was a scary thing to go through and the whole experience made me grow up fast. They had moved their life for me, but it quickly became a role reversal because I had to be an adult and make sure Mum was OK.
Depression affects a lot of people and back then it wasn't talked about as much as it is now, even though it was only five or six years ago. At that time I just managed and as a family we just managed. I'm not sure how but we did. It's certainly made our family stronger.
That was a scary thing to go through and the whole experience made me grow up fast.
Hollie after winning Paralympic gold
I had World Championships that year which was a lot to deal with because I was really driven to become a world champion for the first time but at the same time, when Mum was diagnosed, I didn't want to leave her.
My parents have always taught me to be a strong and independent woman and so I think I just tried to build off everyone else's positivity and I really attacked that year.
I was torn but I kind of felt like I needed space too, I needed to escape from things. I don't know whether that was a good or bad thing but to be surrounded by the team again and have that positivity around me – I just felt like I was in a different head space and ready to do my job.
That's when I became world champion for the first time. It was a release. Being out there and competing, I change as a person when I'm competing and that's when I find myself most and doing that helped me with the whole process.
I did that for Mum, I won for her and it's a special memory and there was so much emotion that went into that competition.

En-route to gold at Rio 2016
My parents weren't there on the day I won and became world champion for the first time, but it was the start of a really successful run for me and I've gone on to win more world titles and I now hold all four major titles including becoming Paralympic Champion, triple world champion, Commonwealth champion and now European champion and holding the world record. It's been an incredible four-year cycle.
I've always tried to repay my family for what they did for me, without them I wouldn't be where I am now or who I am now. But sometimes that has meant putting a lot of pressure on myself.
Around London 2012 there were so many nerves. I was desperate to medal and, when I didn't, and I finished fifth I felt like a failure. Even though I threw a lifetime best at the Olympic Stadium I still felt like I'd let my parents down and my whole team down.

A new world record at the Commonwealth Games
After not medalling in at a home Games I nearly quit, and I think part of me was always trying to make up for that.
But I didn't and I remember my Dad taking me to the local pub in wales a few years back and he said to me: 'the way you've grown up as a young woman and the way you've handled your Mum's situation, you are my rock.'
That was a special moment after a rough time for us all.
This is the most honest I've been about that time, it was very private, but my Mum doesn't mind me talking about this because she'll know it could help other people and for other people to open up and talk about it.
I'm so proud of how she's adapted and overcome things and I think I get that never give up mentality from her.
Join the ParalympicsGB movement
Join
The ParalympicsGB movement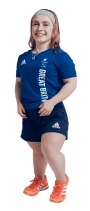 We may include relevant updates from our trusted partners, but will never sell your data on. We take your privacy seriously and you can opt out at any time Privacy Policy