"Always find a way in the end" - tbh by Chris Skelley
Since competing at Rio 2016 – his first Paralympic Games – Chris Skelley has gone on to become European champion in 2017 and a World Championship bronze medallist in 2018. In this edition of 'tbh' Chris tells his story.
When I was growing up I never really knew what I wanted to do.
As a teenager I kind of just stumbled into an apprenticeship as a car mechanic and loved it. I did all my qualifications, but my eyesight had already started to deteriorate and it started to get really bad at that point.
I first noticed something was wrong when I was about 15 but I tried my best to hide it and carry on with my life. I would pretend I could see things that I couldn't and somehow I got away with that for a while.
But eventually I couldn't hide it any longer and they had to let me go at the garage because I was becoming a bit of a danger.

Chris Skelley at Rio 2016
It became pretty clear that I wasn't going to be able to go any further down that path and I was left in a bit of a limbo; I had to find a new direction where I could progress and have other options.
Looking back it was the toughest part of my life.
I'd worked so hard to be where I was and the world I had built just kind of fell apart and it really broke me as a person.
My Mum made sure she kept me busy at that time and gave me lots of jobs around the house and then she'd offer me out to the neighbours to see if they needed any odd jobs doing. That helped so much because I was desperate to succeed and try and plot a path into something new.
It was a really long journey, from being rock bottom to building myself back up. It took a long time and a lot of effort - especially a lot of emotional effort.
I remember crying in my mum's arms because I didn't know what to do or what was happening but the most important thing was that we tried to stay positive and always think that something good would come of it – I never in a million years thought it would be judo.
"It was a long journey from rock bottom to fighting back."
I was looking for literally anything. I would go to the Job Centre and spend ages looking for jobs that someone visually impaired and hearing impaired could do. Mechanics gave me such a buzz and I just wanted that back again.
I'd done judo for years and loved it but I didn't know it was an option. It got to the point where I thought I might not be able to do judo anymore but, luckily, I was at a great club and we just kind of figured it out.
We had no idea visually impaired judo was a thing, but we just tried to adapt and it progressed from there. I made sure I was still doing competitions and someone spotted me at one when I was wearing a blindfold.
I was beating people at a national level and was asked if I wanted to start travelling with the team and fighting internationally. At that point I thought I had to grab that opportunity with both hands because I had no other options.
Four years later I was competing in Rio and that's why the biggest thing I say to people is don't let your disability define you.

Chris Skelley claimed bronze at the 2018 World Championships in Portugal
I want to go and do what I want to do in my life. I don't want to let my impairment stop me, I don't want to get to the point where I stay in all the time or won't go out by myself.
I think that's the biggest thing I've had to overcome, and it is possible to do it. Ultimately, it's a natural human instinct to learn and adapt.
My girlfriend is a wheelchair user and I've seen her learn and adapt and she's seen me be able to learn and adapt with my visual impairment. Not because we are Paralympians but because we both want to go and live our lives.
It's difficult, there's no doubt about that. But the main limitation is in the mind and if you get over that you will be able to see the world and enjoy yourself.
That's just the way I am, I try not to see limitations. I always want to look at how I can do that or how can I do this or say 'OK that thing is stopping me but how can I adapt and how can I move on'.
So I'm a big believer in not letting circumstances stop you from doing things. I've had so many fails with my visual impairment and things that haven't worked for me.
But every time I get something wrong I learn a new way of how not to do something and always find a way in the end.
The only way to figure something out is by doing it.
Joint the ParalympicsGB movement
Join
The ParalympicsGB movement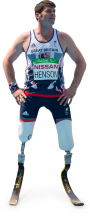 We may include relevant updates from our trusted partners, but will never sell your data on. We take your privacy seriously and you can opt out at any time Privacy Policy