In the first of our new series 'tbh' (to be honest), Paralympic silver medallist and Wimbledon Champion Alfie Hewett speaks candidly, in his own words, about his early life, family and the power of Para sport…
I absolutely hated being in a wheelchair.
As a young boy it was a real struggle at first and it took a lot of accepting. I would try to get out and do things I could do before and would just make it ten times worse.
I remember one time I tried to get out of my chair and run around and that just made my hip crumble, which meant longer in a chair for me. That was a big lesson.
Little things like getting into the shower became a challenge and I had to have a stairlift in the house because I wanted to be upstairs; I didn't want to be isolated from the rest of my family.
It was a process to adapt for everyone, not just for me, but it makes you see that there are things that you just take for granted in life and when you go through something like that and you come out the other side then it teaches you big lessons.
Before I was diagnosed I was really into sport and it probably took me a year to get back into it.
Mentally it's a tough thing for someone so young to go through and I struggled with myself, my self-esteem, my confidence. I felt like going into a chair I isolated myself from groups and friendships.
I was in year two at school and I had a lot of friends at the time but when I went into a chair they didn't really know how to act around me. I felt like I lost those friendships and that led to me isolating myself, so sport was a way of feeling more connected in society.
I look back and it was such a tough period for me. But I do believe those periods helped me to develop and turned me into a better person.
As much as it was such a horrible part of my life it's given me such a great part of life. I'm glad it happened, and I wouldn't want to have had it any other way.

Alfie celebrates at Rio 2016
Thankfully for me I had great support. My family really pulled me through but there were so many little things that I had to adapt to that I'd just never thought about before.
The first thing I tried was wheelchair basketball and then tennis came a bit later. From that moment on sport was always going to be a part of my life but I didn't start with the idea in my mind that I was going to be a world champion or anything like that.
For me it was about the social side of it, having fun and living a healthy life. But there's always been something in me that means whenever I am doing something I have to push myself and be the best I can be.
So it felt like before I knew it I was in the juniors and then was part of the Paralympic Inspiration Programme for London 2012 so I got to see the biggest stage first hand.
We had a choice of watching different sports at London but I just wanted to watch wheelchair tennis and after we'd watched it I went back there on my own for the final just so I could be around it some more and see what it was like at that level.
When I saw the Games, the environment, and the opportunities that the Games could give, that was the moment it really hit me and I knew I wanted to carry on. It was the moment that inspired me to make that decision that I wanted to be in it long term.
"When I go out there and play, I play for my family"
And one of the reasons I have been able to do that is the support I've had. I love playing the sport and I want to do it for myself but as a family we've all been through it.
As much as it's my journey it is their journey too and what we've accomplished as a family is something that means a lot to me.
So when I'm out on court I want to play for them as much as myself and for them to have had the chance to watch me win a Wimbledon title, a Paralympic medal and become world number one, are things that I don't think a six-year-old me, going through those things I was going through, would be able to believe.
I've always said that if I could inspire another six-year-old like me to get into sport, or anyone really… it doesn't have to be wheelchair tennis, young person or old.
It can give you so much more in life and I hope, in my position now, that I can do that.
​
Joint the ParalympicsGB movement
Join
The ParalympicsGB movement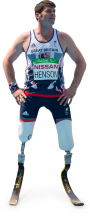 We may include relevant updates from our trusted partners, but will never sell your data on. We take your privacy seriously and you can opt out at any time Privacy Policy