Laurie Williams made history this summer as the GB wheelchair basketball women's team achieved their best ever result, a silver medal at the World Championships. In the latest instalment of "tbh" Laurie tells her story.
After Rio I had to take a year out. I was emotionally and physically exhausted.
Part of it was just the training. We got up at half six every day and trained at seven. Every day. Then we'd do another session later. Sometimes it would be three sessions a day.
That was hard.
Obviously, we wanted to get results because we were going into Rio but I feel like I lost a bit of my identity.

Laurie at the Rio 2016 ParalympicsGB team announcement
Before that I'd always been doing something else. At Loughborough I'd been studying and had a group of friends and it was the same when I went to do postgraduate study in Alabama.
But then it became training, have a break, train some more, go to bed, get up and do the same and you see the same people every day.
I'd been doing sport for a long time but then suddenly in that year I was only doing sport; I didn't have a part-time job, I wasn't volunteering, I didn't have to study.
I was just an athlete.
"There was so much more I wanted to achieve"
I know it sounds bizarre and people will think that is my identity but, for me, I feel like so much more than just an athlete.
I'd lost all of my friends because I was in Worcester and they were in Loughborough or Alabama or back home in Manchester.
So I was just ready to pack it in and take some time out and go and do some normal people work and make new friends and meet my old friends.
Looking back, I'm so grateful that I did because if I had continued I would have just blown, I would have burned out completely.
The first few months I didn't do anything but eventually I knew I needed to find work, so I started applying for jobs.
That kind of made me resent basketball because I had no work experience. Every time I would try and apply for a job it would require experience that I just didn't have.
My CV was basketball, basketball, basketball and then my degrees.
I had no outside experience.

Laurie takes a shot at Rio 2016
Luckily, I managed to get an interview at the BBC to be a correspondence assistant. That was a reality check because I'd never had a job interview – luckily it went well.
It was a cute job, I worked on Blue Peter in the office and every child that writes in to get a Blue Peter badge there's a set of people that deal with all the requests and writes back to them.
So, somehow, that's what I ended up doing.
It was a world away from what I was used to and that's exactly what I needed.
But at times it was hard because my partner Robyn (Love) was still doing basketball.
I really couldn't face talking about it and I'm sure that was hard for her because she would want to talk about the sport or what was going on at training and I didn't want anything to do with it.
I just needed some time. At this point I didn't know if I was ever going to go back to the programme. I left the doors open but I just needed to find out who I was again.
Luckily it worked out OK and, after a few months, I was ready to approach basketball again.
I felt deep down there was so much more that I wanted to achieve, and I just felt more content in myself and was in a better place.

History makers: the team with their 2018 World Championships silver medals
The team at GB Wheelchair Basketball did a really good job bringing me back in gradually and I think that time away meant I was a better player physically and mentally.
I'm sure my experience isn't unique. Luckily, we are in a good space where people can talk about their mental health and feel comfortable doing that.
While I was experiencing it, I was just letting things build up and deep down I didn't believe anything could be done so I didn't say anything. We were on this journey to Rio and I thought I just have to follow through with it. Looking back, I wish I'd spoken about it earlier because by the time we got to Rio I was just ready for it to be over and done with.
I still worry about life after basketball. I know it won't last forever and I need to prepare for that and hopefully my story will help athletes realise that they need to think about what to do once their career is over.
There's lots of resources out there to help but I think instead of tackling it head on athletes would sometimes rather not think about it and keep living the dream and doing what they love.
All of a sudden that can end though and it's important to think about what is going to come next.
​
Past and current athletes from UK Sport's World Class Programme can find out more about the Athlete Futures Network here:
The Athlete Futures Network provides members with access to newsletters, career and networking events, knowledge sharing sessions, sporting events and much more.
Joint the ParalympicsGB movement
Join
The ParalympicsGB movement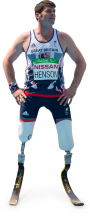 We may include relevant updates from our trusted partners, but will never sell your data on. We take your privacy seriously and you can opt out at any time Privacy Policy