Snowboard competition comes to a close but no medals for Great Britain
It was a case of mixed emotions for Great Britain's snowboarders on day seven of the PyeongChang 2018 Paralympic Winter Games as the curtain fell on their historic competition but did so without any medals to show for their efforts.
The pioneering team of James Barnes-Miller, Ben Moore and Owen Pick will be remembered as the the first to ever represent Great Britain in the sport at the Paralympic Games.
However, after missing out on the podium places in snowboard cross earlier this week, their chance to double down on their status as history makers came down to three runs in the banked slalom.
It wasn't to be for the trio with Ben Moore and James Barnes-Miller finishing seventh and tenth respectively in the SB-UL class while Owen Pick was ninth in the SB-LL2.

Owen Pick after his banked slalom efforts
You're told you can't do certain things because of your injury and I want to prove them wrong.
For Pick there isn't a discussion to be had about whether or not he sets his eyes towards Beijing 2022 with the 26-year-old committing himself to the four-year journey before his result had even been confirmed.
Pick's opening time of 52.81 left him seventh but a fall on his second left him with it all to do and a final run of 53.26 was not enough to trouble the top of the table – gold going to Japan's Gurimu Narita while USA's Evan Strong won silver and Matti Suur-Hamari taking bronze.
"I'll definitely go again for sure," said Pick. "I'm glad we've shown Britain we can do this I'm just sad we couldn't do better.
"I'll get over it. I'm hard on myself but I set myself a challenge. You're told you can't do certain things because of your injury and I want to prove them wrong.
"I haven't got a choice whether I continue. I can't leave it. I'm one of those people who sets themselves a goal and I haven't achieved that goal. I'll be back."

James Barnes-Miller finishes tenth on his Paralympic Games banked slalom debut
Hopefully in another four years I will be unstoppable.
While Barnes-Miller was content with his efforts at PyeongChang 2018 he doesn't see any reason why he can't be an unstoppable force in four years' time.
The 28-year-old clocked 58.23 on his first run before laying down his quickest time of 57.00 on run two – a fall on his third run seeing him finish in 1:08.17 – USA's Mike Minor dominating for gold with Austria's Patrick Mayrhofer taking silver and Australia's Simon Patmore bronze.
But Barnes-Miller believes another four years on snow will see him become a dominant force in the SB-UL classification.
"I had five seconds to find so I had to push it. It wasn't my day. These things happen and I'll have to come back fighting.
"Every time I race it is positive. This is only my third season and I broke my leg in the second season. Every time compete I am learning so hopefully in another four years I will be unstoppable.
"You have to take the rough with the smooth and as long as I'm learning all the time and am getting better then I can't ask for more than that."

Ben Moore may call time on his Paralympic Games career
I'll wake up one morning and think that was one hell of a ride.
For as long as Ben Moore has been competing for Great Britain he has been carving a path for future generations.
Moore was the first British boarder to win a World Championship medal and now is one of the first to have competed at a Paralympic Games.
And, while a seventh-place finish might be the last time we see him at a Paralympic level, he is still processing the magnitude of what he has achieved.
"I'll definitely be snowboarding in four years' time but a lot of athletes are calling time now at this level and maybe I will join that group," said Moore.
"Coaching is on my mind and I want the sport to progress and I'm excited to see how Great Britain does and how many people take up the sport.
"I've participated in the X-Games in 2015 and that's still not settled so I think I'll wake up one morning and think that was one hell of a ride."
Joint the ParalympicsGB movement
Join
The ParalympicsGB movement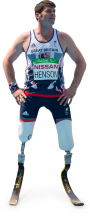 We may include relevant updates from our trusted partners, but will never sell your data on. We take your privacy seriously and you can opt out at any time Privacy Policy