ParalympicsGB reveals Wheelchair Fencing quartet for Tokyo 2020
A talented quartet of Wheelchair Fencers has been selected to compete for ParalympicsGB at Tokyo 2020.
Piers Gilliver, who won a silver medal at Rio 2016 is joined by fellow Rio athlete Dimitri Coutya, Gemma Collis-McCann, who has experience of two Paralympic Games and Oliver Lam-Watson who will be attending his first Games.
Piers' success at Rio in the men's Category A epée secured the first Wheelchair Fencing medal for ParalympicsGB for 24 years.
Dimitri also made his Paralympic debut at Rio 2016, where he progressed to the quarter-final stage in both the category B foil and epée events. Since then he has won gold medals at the 2017 and 2019 World Championships.
Gemma has qualified in both the Category A epée and the sabre and is looking forward to competing at her third Paralympic Games. She was the first British woman to win a gold medal at a Fencing World Cup having discovered the sport in the build-up to London 2012.
In addition to his Fencing skills, which saw him win a 2019 World Championships bronze medal in the team, epée Oliver is an avid YouTuber and uses the platform to debunk myths about disability and talk about issues such as mental health.

Piers Gilliver: "I am really thrilled to have been selected for Tokyo 2020, and proud to be part of the ParalympicsGB team for my second games. This will be my first time competing in four medals events, so I'm really excited for the competition to begin."
Dimitri Coutya said: "It is an honour to be able to represent Great Britain as a part of ParalympicsGB again. I can't wait to get out there and prove to myself and to the world what this team is capable of achieving"
Gemma Collis-McCann, said: "I'm absolutely delighted to be selected to represent ParalympicsGB at my third Paralympic Games in Tokyo. It will undoubtedly be a very different experience to London and Rio, but I can't wait to get out there and give it everything in pursuit of a medal.
"Here's hoping we can give the British public plenty to cheer about after what has been such an incredibly difficult period for so many."

"Dream big": Oliver Lam-Watson
Oliver Lam-Watson said: "Four years ago I was told I would never be an athlete, so if you're young, disabled and having a tough time of it, I get it, that was me too.
"I encourage you to dream big, make every moment count, and don't listen when they tell you to 'take it easy, play it safe'. People will always tell you what you can't do and that's fine just do what you can't!"
ParalympicsGB Chef de Mission Penny Briscoe said: "This Wheelchair Fencing squad boast a fascinating combination of experience and emerging talent and I cannot wait to see them compete at Tokyo 2020.
"I would like to take this opportunity to recognise their incredible hard work, talent and resilience which has got them to this point where they will be on the plane to Tokyo in August to represent ParalympicsGB."
Matt Hammond, Performance Manager at Wheelchair Fencing, said: 'After a frustrating period of non-competition, the team are really looking forward to going to Tokyo and taking part in one of the biggest sporting events on the global stage.
"This is a talented team with a blend of youth and experience that can't wait to get back on the field of play and compete with the world's best wheelchair fencers"
A total of around 240 athletes from 19 sports are expected to make up the British team that will compete in Japan, with further names to be announced in the coming weeks.
ParalympicsGB captured the imagination of the British public at London 2012 winning 120 medals in front of sell-out crowds with countless memorable performances.
The team eclipsed that performance at Rio 2016 winning an outstanding 147 medals including 64 golds to finish second in the overall medal table. The rescheduled Tokyo 2020 Paralympic Games will be staged from 24th August to 5th September.
Join the ParalympicsGB movement
Join
The ParalympicsGB movement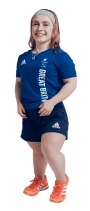 We may include relevant updates from our trusted partners, but will never sell your data on. We take your privacy seriously and you can opt out at any time Privacy Policy