History making snowboard team make their Paralympic bow
For most people making history would be something you would never forget. For James Barnes-Miller it was something he didn't even realise until he checked his Instagram feed.
The 28-year-old became Britain's first-ever Para snowboarder to compete at the Paralympic Games when he launched out of the gates on his first qualification run for the snowboard cross competition at PyeongChang 2018 on Monday.
That run cemented his place in Great British sporting history but Barnes-Miller was so focused on competition it didn't occur to him until he checked his phone at the bottom of the slope.
"I didn't realise I was the first," he said. "It didn't even cross my mind until ParalympicsGB posted it on Instagram and I checked my phone after.
"It's a real honour. Three years ago I would have laughed at you if you'd told me I was going to the Paralympics."

James Barnes-Miller becomes the first Para snowboarder to represent Britain at the Paralympics
While Barnes-Miller was the first he was followed closely out of the gates by teammates Ben Moore and Owen Pick – all three posting solid qualification times to secure their spots in the head-to-head races.
However, that was as good as it got for Moore who lost his SB-UL 1⁄8 final to Italy's Paolo Priolo while Pick was also beaten to the line in his SB-LL2 contest with Argentina's Carlos Javier Codina Thomatis.
"I was pretty gutted after that," said Pick. "I was feeling really good after my qualification runs and that race is one I think I would normally win.
"I just have to put this one behind me now. I can't change anything now even if I wish I could. There's nothing I can do so I just have to put it behind me.
"I didn't snowboard as well as I know I can snowboard in that last run and that's what upsets me most. It's not the position or the result. It's the fact that I know I can do better and I didn't."
​

Owen Pick on his qualification run
While Moore and Pick bowed out there was more joy for Barnes-Miller who saw off the challenge of China's Zihao Jiang to secure a quarter-final berth.
Australia's Simon Patmore lay in wait and, despite a closely contested race, Patmore took the lead early and held off the advances of Barnes-Miller to take the semi-final spot - Patmore eventually going on to take the gold medal.
But for Barnes-Miller it was a moment to savour and, with the banked slalom competition still to come for all three riders, the Broadstairs man was in an optimistic mood.
"Obviously I wanted to medal but, on the other hand, it was great racing and I'm really happy with how my riding was," he added.
"If I get kicked out racing someone and it was a good race, then I'm happy. I think it was a good race. I enjoyed it and I hope everyone else enjoyed it. I'm happy.
"I'm at the Paralympics, what could be better? I'm just going to go and catch up with my family and chill out before the next race."
Joint the ParalympicsGB movement
Join
The ParalympicsGB movement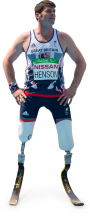 We may include relevant updates from our trusted partners, but will never sell your data on. We take your privacy seriously and you can opt out at any time Privacy Policy