Fortune favours the brave
Three years ago in Berlin, shot putter Sabrina Fortune won her first major title - and overcame one of her biggest fears: standing on the top of the podium.
"The first time I got a gold medal, standing on top of the podium, I was a nervous wreck - and I absolutely loved it," said Fortune, who on that day in 2018 became the European F20 shot put champion.
"It was the best thing ever. But it also taught me not to be scared of being on the podium as well. No one talks about that side as it's such a happy moment."

Sabrina on the Rio 2016 podium
The Welsh Para athlete had won bronze on her Paralympic debut at Rio 2016 and she quickly grew to appreciate the magnitude of a Paralympic Games.
"In Rio I had a whole stadium of people staring at me and it's crazy how nerve wracking that is. I just wanted to hide. I learned not to be scared of the cameras – even though I wanted to run away from them!" added Fortune, who went on to claim her first global title at the Dubai 2019 World Championships.
Now the 24-year-old, who competes in the F20 class for athletes with an intellectual impairment, hopes her past experiences will help her excel on the biggest stage of all – the Paralympic Games in Tokyo this summer.
"When I competed in London (at the 2017 World Championships) I didn't do well. Ever since that time I hated it, I didn't want to throw. I went really downhill and was upset with it," explained Fortune, who finished sixth in that competition.
"But I learned that sometimes you have to compete against yourself. When I was at the Worlds (in 2019) and I did it, it was an experience that helped me understand that if you have a bad experience, it's okay. In my category, for F20 athletes, it's a lot better to know what you are going in for than someone who is brand new and doesn't know what to expect."

Fortune collects her 2019 Worlds gold
Fortune reflects on her successes 'every day' and admits this mindset has helped inspire her during the last year of lockdowns and restrictions.
"I remember the times I've had and the times I've enjoyed so much. You will always have dark days, and with COVID it's been horrendous, but you have to remember there is always a light at the end of the tunnel.
"You learn that the hurdles get better – you learn to jump over them much quicker than you used to. If I have a bad day there's always a good day afterwards."
While Fortune has experienced the highs and lows of competition, it is her underlying passion for the sport – and for shot put in particular - that drives her to continue.
It's an incredible experience to be able to pick up a heavy weight and move across the circle like a dancer.
"It's an incredible experience to be able to pick up a heavy weight and move across the circle like a dancer," said Fortune, who first took up the sport in her early teens because she was "sick and tired of sitting in the car not doing anything" as the family travelled around the country to her elder brother James's athletics competitions.
"One day I just went, 'I want to try, let's see what happens'. I used to love spinning on the spot when I was younger. I started discus and I did rotation there - and I loved it, it was the best thing I ever did.
"When I got into rotation in shot put it was something else. I really enjoyed it and it kind of just clicked. It was so fun. It didn't turn in to a job, it was a hobby. As they say you don't work a day in your life if you enjoy what you do. And I definitely agree with that."
Join the ParalympicsGB movement
Join
The ParalympicsGB movement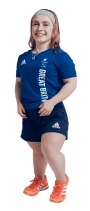 We may include relevant updates from our trusted partners, but will never sell your data on. We take your privacy seriously and you can opt out at any time Privacy Policy