Whiley's Wimbledon journey comes full circle
Jordanne Whiley has a more special relationship with the All England Club than most but now she's aiming to complete her crowning achievement.
The wheelchair tennis star won four consecutive doubles titles at Wimbledon with partner Yui Kamiji from 2014 to 2017, doing so on the last occasion while 11 weeks pregnant with son Jackson.
And as she prepares to go back to SW19 for the first time since that momentous final, thanks to a wildcard to play in this year's singles and doubles, the 27-year-old is ready to pick up where she left off.
"I'm really excited for it and I'm really happy that Wimbledon have decided to back me after my time out – that means quite a lot to me," Whiley said.
"At the beginning of the year I wanted to go for the wildcard for Wimbledon but I wasn't sure whether I was going to get it or not because at the time I was GB number two.
"I've recently just gone to GB number one so I thought my chances were really good and I was hoping to get it but you just don't know.
"It's special to be able to go back. It's one of my favourite tournaments, I've won it four times with Yui and the last time I won it obviously I was pregnant with Jackson, so it will be lovely to go back and have him watching on. Me and Yui are aiming to win that fifth title.
"If we were to win Wimbledon again it would definitely be the biggest achievement of my career, coming back after having Jackson."
That 2017 doubles final, where Whiley suffered from sickness before she and Kamiji overcame Marjolein Buis and Diede de Groot 2-6 6-3 6-0, was a crossroads for Britain's youngest ever national women's singles champion.

Whiley celebrating with Kamiji at Wimbledon in 2017
Doubts plagued her as to whether she would ever be able to return to the sport once she had given birth, let alone at the very highest level.
But, in a landmark 2019, the ten-time Grand Slam champion won four singles titles in her first five tournaments back on tour and has since risen to number eight in the singles world rankings, as well as 19th in the doubles standings.
"The only way I wasn't going to come back was if I physically couldn't as I had a lot of injuries before the Rio 2016 Paralympics," Whiley added.
"Then I got pregnant and I wasn't sure how the pregnancy was going to go because it was all new to me.
"I've gone way better than I ever could have dreamed since coming back. My original goal I set in January was to be in the top 15 by the end of July and I'm now in the top eight in mid-June, which is unbelievable.
"I never thought I could do that, I'm not quite sure how I've done that. I think I'm just really relaxed now, I have a different perspective on life. I don't take it so seriously."
Juggling motherhood and tennis has naturally proved tough, with long stretches away from Jackson, but he has and is continuing to serve as both an inspiration and a reason to change the way she thinks about her game.
She said: "When I'm away, it's really hard. I miss him and at home juggling mum duties and training is really tough so I've had to tone down my training.
"I only do four days a week now as I can only get childcare for the four days. That means I have to make every hour count when I'm on court.
"Having Jackson has made me a better tennis player because it's made me less critical of my game and I've mellowed. Tennis isn't everything to me anymore.
"I still enjoy it, want to do well and want to be the best but I have a family so it doesn't consume me and I'm now able to see things more clearly.
Having Jackson has made me a better tennis player because it's made me less critical of my game and I've mellowed. Tennis isn't everything to me anymore.
"I'm an example now to Jackson and I always think back before I had him. I would get really hard on myself for losing and wasn't actually taking the positives from it whereas now I put myself in his shoes playing a football match when he's eight years old – I would take the positives so I should always take the positives in myself."
The one thing that has so far eluded Whiley in her otherwise glittering career has been a Paralympic gold medal with bronze attained at both London 2012 and Rio 2016 in the doubles.
As a result, Tokyo 2020 is firmly printed in the back of her mind, especially given this will likely be her last Games.
It may surprise some to hear that success in the singles at Tokyo is of higher priority than going one or two better with compatriot Lucy Shuker in the doubles but her plans for Wimbledon are the next step on this journey.
"Getting to Tokyo is always something I have wanted to do," she added.
"I'm confident going into Wimbledon. I'm going there to have a crack at the singles. I've reached the semi-finals before but I really want to make my mark as a singles player.
"This is especially so because Tokyo is 99 per cent going to be my last Games so I want to make my mark in the singles there before I retire."
Joint the ParalympicsGB movement
Join
The ParalympicsGB movement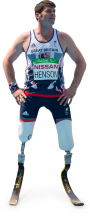 We may include relevant updates from our trusted partners, but will never sell your data on. We take your privacy seriously and you can opt out at any time Privacy Policy