Whiley has caught the tennis bug once again
For some time, Jordanne Whiley toyed with the idea of not returning to the international wheelchair tennis scene – but the two-time Paralympic bronze medallist now realises how wrong she was.
The 26-year-old narrowly missed out on consecutive titles a few weeks ago, just being pipped to the post by Italian world number five Giulia Capocci in the final of the Bolton International Indoors.
A week prior, Whiley, who won her fourth consecutive Wimbledon women's doubles titles in July 2017 before giving birth to baby Jackson in January 2018, won singles and doubles titles at the Wrexham International.
After almost 18 months out, Whiley had returned to domestic action in December's National Championships, winning her fifth title and flying in the face of the doubts that previously weighed down upon her.
"For the first year that I had out, I wasn't looking to come back at all. I didn't miss it, and then it was only the last six months of me being out that I decided to come back," said Whiley.
"I was just watching various tournaments during the summer on TV, live streaming things and watching Wimbledon. I just thought that I could beat some of the girls there, so I thought I should come back!
"I am naturally competitive, which you obviously need to be a sportsperson, but it did just make me miss it, watching Wimbledon on TV.
Jordanne Whiley and partner Yui Kamiji of Japan won the wheelchair ladies doubles at Wimbledon in 2017
"Then, for two months coming back in training, I was really excited to get back on court and I was changing a lot of things in my game, starting from scratch, and I definitely felt the buzz again."
Despite such a long period out, the Birmingham-born Paralympian is clearly already back to a very high level, beating world No.3 Aniek van Koot of the Netherlands on the way to the Bolton final and ninth-ranked Katherina Kruger of Germany in the Wrexham decider.
Whiley, who was awarded an MBE in the 2015 Queen's birthday honours list, needed to play in two international tournaments to boost herself up the rankings, and is now into the top 40.
She continued: "It obviously went really well and I've exceeded what my goals were for the tournaments, so that's always good.
"Every tournament I go to, I always have an outcome goal and my aim was to get to quarter-finals and second round – obviously, I won the first tournament and then made the final for the second, so I'm really happy.
"My aim was to get to 90-100 in the world and I'm back in the top 40 now. I think I'm at 38, so it's just relieved a bit of pressure for the next couple of tournaments.
"I wouldn't say much has changed in competition.
"There's a few people who've improved over the last two years but they were people who were coming up the ranks and improving when I left, so I expected it.
"I just thought that I could beat some of the girls there, so I thought I should come back!"
"But when it comes to the top girls, I don't think that much has changed."
Whiley will now continue to juggle the twin goals of stepping up her return to the circuit with raising one-year-old Jackson – surely no easy feat.
A winner of 10 Grand Slams before her pregnancy break, Whiley is pleased to be ahead of schedule in her return and has her sights set on Wimbledon – and adding to those four titles at the All England Club.
She added: "My goals for the season are changing constantly because it depends on how well I do and if I succeed and win more tournaments.
"It's just about smart scheduling for me – I'm not going to play any unnecessary tournaments.
"I guess I'm finding it quite difficult because part of me just wants to play loads of tournaments and just go a bit crazy but the other part of me knows I've got a son at home who still needs me.
"I'm just taking it tournament by tournament because I do have ranking goals but I expected to be top 40 a lot later in the year, so it's thrown it out a little bit at the moment!
"I just really want to make it to Wimbledon. All I can do is get my ranking as high as possible, so I just need to give myself the best chance for that wildcard
Joint the ParalympicsGB movement
Join
The ParalympicsGB movement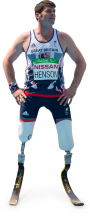 We may include relevant updates from our trusted partners, but will never sell your data on. We take your privacy seriously and you can opt out at any time Privacy Policy