With one year to go until the start of Tokyo 2020, Paralympic silver medallist Stef Reid talks about the impact Paralympians have on the nation in the latest instalment of our tbh series…
A recent study revealed that ParalympicsGB - the team of British athletes who compete at the Paralympic Games – is the most inspirational sports team in the country.
As a member of that team – I competed at Beijing 2008, London 2012 and Rio 2016 and am seeking qualification for Tokyo 2020 – that makes me very proud.
Proud not only to know that my achievements don't go unnoticed, but also to know that we as athletes can genuinely have an impact on those around us. After all, we are just going about our daily lives.
When you watch the Paralympics, you see people compete who, for a variety of reasons, have probably had a pretty tough time in life. The Paralympic Games are an invitation to celebrate with us. Watch us be awesome, then go back, do your thing and be amazing yourself.
Elite sport might be exclusive, but the celebration of that sport should be open to everyone - and I think Para sport takes the lead on that, which is why I am backing ParalympicsGB's new campaign Impossible to Ignore.
Impossible to Ignore aims to harness the power of Paralympic sport to break down barriers, shift perceptions and increase opportunities for all disabled people.
I passionately believe that the success ParalympicGB athletes achieve on the field of play can be turned into meaningful, long-term action – turning medals into a movement.
After becoming an amputee in my teens, sport really helped me to accept my body. Sport taught me to celebrate and value what my body could still do. Paralympians have the capacity to teach the wider public what we can still do, too. This is an opportunity we cannot ignore.

Recent research carried out by ComRes earlier this year highlighted the significant impact Paralympians have as role models. When you see figures like 84% of UK adults saying the achievements of ParalympicsGB athletes have a positive impact on society overall you begin to appreciate the significance of what we do.
Then there are the more personal experiences, back in 2012, I was contacted by the father of a little girl who had had her leg amputated after contracting meningitis. He asked me if I would Tweet her a happy birthday message; we are still in touch seven years on. I genuinely believe that interaction would have changed how she views herself and helped her realise – even as an eight-year-old – what opportunities were out there for her.
Similarly, before London 2012 it was rare to associate words like strong, confident, athletic and powerful with disabled people. We just never made those connections. There was a far narrower view of what a person with an impairment looked like and what they could achieve.
The Paralympics has shattered that illusion and I am determined to be part of the team that continues to drive that momentum at the Tokyo 2020 Paralympic Games.
But while I do believe attitudes towards disabled people are improving, there is still far more to be done.
I encounter situations with my husband Brent – a fellow athlete and a wheelchair user – which prove that while changes are happening, we are not there yet. If we go out for a meal, the waiter might look to me for the order or give me the bill.
Still, I do notice societal changes – particularly among the younger generation.
In a supermarket one day, I overheard a conversation between a girl and her mother, who was telling her daughter not to stare, for I had a 'poorly leg'.
There was a brief pause, then the young girl replied 'no she doesn't, she has a robot leg' – and just carried on. This little girl wasn't fazed; she didn't feel sorry for me.
It was just normal. And I loved that.
Joint the ParalympicsGB movement
Join
The ParalympicsGB movement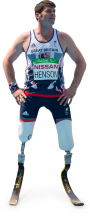 We may include relevant updates from our trusted partners, but will never sell your data on. We take your privacy seriously and you can opt out at any time Privacy Policy