Take. Up. Space: Hannah Dines on International Women's Day
For the latest in my series of columns for ParalympicsGB we're celebrating International Women's Day. Did you know it's a public holiday in Russia? The good news it's on a Sunday so we can pretend we're on holiday too, right up until Monday morning. IWD commemorates the women's rights movement, especially women's right to work (or work-out as I like to call it). So raise a dumbbell to a good cause, everyone.
In 2020 we have so many rights to celebrate we could almost forget only two generations ago women's liberation wasn't really a thing and neither were Paralympians. If you were a woman advocating for the Paralympic movement you didn't even exist, at least not in the history books.
Sometimes taking up space is the most powerful form of protest. Need I mention Rosa Parks?
Take up space is not my phrase but that of the feminists who shaped me - see Vanessa Kisuule's Beat Poem from 2015 and any of Chimamanda Ngozi Adichie's iconic speeches. May they take up part of this article and space in your head when you google them.
Sometimes just turning up and being there without apology - in the workplace, in a national newspaper or at the start line can make the difference. In fact it's the reason why I got my race at the Paralympics.
Let me set the scene: in 28 years not one woman had medalled in either of the two mixed trike events available going into London 2012. With hotshot German Hans Peter-Durst hampered by injury, GB's David Stone went in as favourite for the T1-2 time trial at a home Games.
Except he didn't win. Carol Cooke from Australia did (with Stone going on to claim gold in the road race). Soon after there was a rapid kerfuffle in the board room and women were given their own trike races.
I think Cooke's Paralympic gold really did change history. And that's how she stopped being David's problem and became mine. In Rio 2016 I raced alongside the hero herself, coming in 5th.
ParalympicsGB cyclists walk on stage at the Rio 2016 homecoming event
38.6% of athletes at the Paralympics in Rio were women, which is expected to increase again in Tokyo. That's a 1,627 increase since the first Games in 1960. ParalympicsGB have some incredible activists and athletes: Caz Walton OBE, Baroness Tanni Grey-Thompson and Dame Sarah Storey have made visible efforts to make sporting infrastructure more accessible to women.
Yet, if we want to have true parity we must look for the gaps and, thankfully for my training schedule, Paralympic Historian Dr. Ian Brittain has already done that. It turns out the gender gap is widest when it comes to higher support needs athletes in sports which require specialised equipment and coaching.
The barriers have a cumulative effect - to mention a few: the way society pressures women, ability to earn, how much help you need is another and what type of disability you have. Basically, for most women the race at the Paralympics pales into comparison when you acknowledge what they must face to get to the start line.
And if you want to solve a problem you must acknowledge it. I quote directly from Brittain's research here and he's published several papers on the analysis of sports policy: "if women do reach elite level maintaining their participation becomes much more about the structure of the sport they are involved in and those charged with running and administering it."
However, credit where credit is due. The International Olympic Committee (IOC) purposely set up the Women and Sport Commission and so too the International Paralympic Committee has a similar, smaller Women in Sport Committee to try and solve these issues. One such issue was a blanket request by the IOC that women in National Olympic Committees, International Federations and the IPC hold at least 20% of leadership positions. Today the IPC's governing board has 13 members of which 3 are women - target achieved. I wonder if in Tokyo those sports with the biggest gender gaps will have closed them somewhat and I hope GB will lead the way.
This International Women's Day I want to make the bold claim that women who do now have some space should practice taking up even more space, especially in our most disabled classifications.
And if you hold a particularly powerful space then make space for others.
​
Special thanks to Drs. Linda K. Fuller, Kim Toffoletti, Ian Brittain, Robin Kietlinski and Hayley Fitzgerald who, with some painstaking research without many resources and without having met me reflect my lived experience of being a disabled athlete. Thanks for the help understanding my own history and legacy, without you I would not have been able to write this.
Joint the ParalympicsGB movement
Join
The ParalympicsGB movement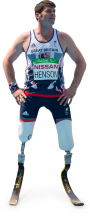 We may include relevant updates from our trusted partners, but will never sell your data on. We take your privacy seriously and you can opt out at any time Privacy Policy