Don't stop. Won't stop: tbh by Hannah Dines
It's almost horrible, the realisation that you're going to keep going, no matter what.
My first instalment in a series of columns I am writing for ParalympicsGB in the build-up to Tokyo, before I turn my gaze outward at the beautiful Paralympic world around me, is not about how I started but how I've kept on going…
There is no recipe to becoming one of us, a Paralympian. The one constant, especially if you move, see or think differently, is that you will have to find your own way. But if you give it a try there's often a pre-prepared Paralympic pathway to suck you in. When you are chosen there is a satisfying direction to your effort and light at the end of your tunnel. I don't want to begin on a downer, but at some point that stops.
I have, like many do, an incredibly strong internal drive. Willpower and determination may seem so maverick and glamorous but actually the inside of my head is like one of those tiny robot hoovers that continually clean your carpet. Firstly, they'll hoover up anything, choking on Kirby grips and tiny bits of plastic. Secondly, when faced with two perpendicular walls they get stuck ramming themselves into the corner until their battery dies.
Sure I can keep going forever, no matter the pain, no matter if I'm not on programme anymore, no matter if training is the third part of my day after stress-crying and doing some work. I can keep going even if 3rd place has crossed the finish line just to set a season's best power, though I'm minutes behind the rest. I've never pulled out of a race early because racing is the best feeling in the world, even if the result doesn't go your way.
It's either being an elite athlete or it's madness so I've picked the former. I don't think this is a majority mindset - many elite athletes are much less intense and better for it.
So to me, it's not 'how' I keep going because I have a hum and a howl within me, whether I'm hoovering up 10 seasons of a bad TV show or 8 minute efforts at a maximal heart rate, it's what I direct this willpower at. And if I don't latch its teeth onto something big and hard to chew, it can eat my insides.
But it's not just escaping that - the joy that devouring the first Paralympic goal brought me was nothing like I'd ever experienced, it really was the race of my life. The stretch of the next four years thrilled me. I longed for the slow and careful change from human into purposeful machine.
I started alone, an eight-lane track in Dundee in the dead of winter, my coach all the way back in Glasgow. I thought it showed my perseverance nicely, no eyes to watch me, just me and the sound of my spikes scuffing the frozen ground. Now I know being an elite athlete has a lot to less to do with hardship and a lot more to do with keeping yourself comfortable and consistent, a multi-person effort based on inclusion and understanding, working with as many experts as you can make time to email and phone, and leaning on friends and family when it gets hard.
I often turn away from the Paralympic goal - it's like the sun, too bright to look at and burns too hot to hold in my hands but while it still shines I'm beholden to it.
Hannah has been a RaceRunner and trike racer who has represented the Great Britain Cycling Team at the Road World Championships every year bar one since competing at Rio 2016.
Joint the ParalympicsGB movement
Join
The ParalympicsGB movement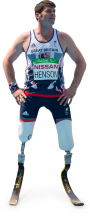 We may include relevant updates from our trusted partners, but will never sell your data on. We take your privacy seriously and you can opt out at any time Privacy Policy