Storey eager to propel women's cycling into 21st century
It's time for women's cycling to join the 21st century, according to 14-time Paralympic champion Dame Sarah Storey.
In the fight for sporting equality there are few better prepared for battle than the 40-year-old who is gearing up for this week's UCI Para cycling Road World Championships in Maniago, Italy.
Storey has long been a vocal advocate for parity in sport and, as an iconic figure in both women's sport and para sport, has the benefit of insight from two worlds that continue to fight for an equal footing in the sporting landscape.
And Storey – who won her first Paralympic medal in swimming at Barcelona 1992 – says there is no reason for women's cycling to take a back seat to men's racing.

"We know that women's sport is exciting," said Storey. "It can have people on the edge of their seat and just because the people that shout the loudest are the negative ones doesn't mean we should focus on them at all.
"Actually, they are the ones that shout the loudest because if they don't shout people will forget they exist.
"Why, when we've had iconic races like the women's Tour de France and that's removed, do people say it's because it's not very interesting?
"You just can't say that. We need to bring women's cycling into the 21st century and if we can get a better deal for women's cycling it will follow that we will get a better deal for para cycling.
"They are the ones that shout the loudest because if they don't shout people will forget they exist."

Dame Sarah at London 2012
"We will then start to see things like prize money coming into para cycling and we can drive standards up once people across the world have the opportunity to be full time.
"Instead what we have at the moment is a cycle of working really hard for three years to get kudos with the boss, so you get more time off in a Paralympic year."
A starting point for Storey on the path to equality would be to have women compete across the same distances as men.
And, while Storey knows women's sport and para sport still have obstacles to overcome to attain the recognition they deserve, she believes the public have already had a taste of what can be possible.
"It's always the excuse that there isn't an audience or it isn't commercially appealing. It's usually from fellas saying 'it's boring' and 'I don't like to watch it'," Storey added.
"Ultimately, we don't need to believe that, it's not true. We've seen it in para sport. We've seen days on the park during the Paralympics where there were more people than during the Olympics.
"I think where women are is a bit like where we are with para sport in terms of getting an equal footing alongside able-bodied sports.
"It's kind of a similar journey which I obviously understand really well and can bring my experiences to the table. Gaining momentum and coverage within para sport is something that we are constantly trying to drive."

Dame Sarah on the podium at Rio
This year's Road World Championships will see Storey attempt to add to her 29 world medals won across both track and road disciplines just nine months after the birth of her second child Charlie.
"Things are going really well," Storey said. "I've been back on the road racing since the middle of April and it's been good.
"I've done lots of time trials and a few road races and I'm gradually just building myself back up. Charlie is only nine months old and I have to be aware that when Louisa was nine months old I hadn't really started road racing and I've already won a stage of the women's national road race series and raced internationally.
"If I'd waited until he was nine months old I would've only just started racing now and so the Road World Championships wouldn't have been an option.
"I am just reacting to how things are in the here and now and not looking too much at how it was previously.
"I'm looking forward to seeing what's possible when I get out to the Worlds. Obviously, people will be looking to see how quickly I have come back and hopefully it's good enough for a medal."
Joint the ParalympicsGB movement
Join
The ParalympicsGB movement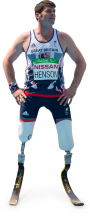 We may include relevant updates from our trusted partners, but will never sell your data on. We take your privacy seriously and you can opt out at any time Privacy Policy