Sophie Wells hoping to inspire next generation with medals and mentoring
Para-equestrian rider Sophie Wells knows exactly how it feels to stand atop a Paralympic Games podium and she is working hard to ensure others can also enjoy that experience.
In addition to competing at the highest level, Wells works as a coach and is already making an impact with two of her riders on the reserve list for the World Equestrian Games.
The three-time Paralympic gold medallist coaches Isobelle Palmer and Georgia Wilson who were both named as back-ups for September's Championships in Tryon, North Carolina.
Wells hopes to share the podium with her two proteges one day, fully aware that she must continue to improve her own performances to stay ahead of the next generation of riders.
"Potentially they could take my place but I suppose if they did I have done a good job. I have to keep improving myself," she said.
"You see it a lot in able-bodied sport, coaches competing alongside their clients, it's less common in para-sport as there's less people in it but I don't see it as a big deal, they can realise their dreams.
I work every day coaching riders of all different levels, disabled and able body, so to have two of the reserve list is amazing, I am so proud of them.
"I find it really fulfilling, seeing riders start young and need experience and develop in the sport. They are learning life and sporting lessons and enjoying the sport.
"It would be a dream to stand on the top of the podium with my two riders (Isobelle and Georgia) alongside me, knowing we have done the hard work and it's all been worth it. Maybe one day.
"They are 17 and 22 so if they continue to improve now and, in the future, I will be very happy, I think I am doing an OK job and we will see how it goes."
In the more immediate future, Wells will have her focus firmly trained on the United States and her third World Equestrian Games which starts on Monday.
Wells won para-dressage championship and freestyle silver, as well as team gold, on Valerius four years ago in France but will be riding C Fatal Attraction this time around.

Wells won Paralympic gold medals at London 2012 and Rio 2016
It presents a new challenge for Wells, who won Paralympic gold medals at London and Rio, though she has positive memories of the Championships to look back on.
"It's such a massive honour to be selected we can look forward to competing and having our sights on being able to peak on our performance there," she added.
"I think one of my best memories was 2010 in Kentucky and my first World Equestrian Games where I got an individual gold medal that was amazing, it was a really great show.
"It was definitely not expected but I just concentrated on my own performance, that was what I have always tried to do – keep our focus on the process and not thinking about the outcome.
"It's a different horse now though which changes the dynamic and challenge but that's what is so great. To go out and put in a performance is so special when you've trained and brought them up."
Joint the ParalympicsGB movement
Join
The ParalympicsGB movement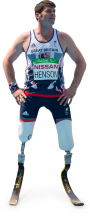 We may include relevant updates from our trusted partners, but will never sell your data on. We take your privacy seriously and you can opt out at any time Privacy Policy