Sophie and Jorge: Love at first sight
It was love at first sight for Sophie Wells.
In early 2013, after months of unsuccessful searching, she came across a video of C Fatal Attraction - or Jorge as he is also known – and knew instantly that this was the horse for her.
Now, eight years on, the pair will compete in the Para dressage events at the Tokyo 2020 Paralympic Games, but the moment she first met Jorge is still etched in her mind.
"I'd been looking for a long time - since London 2012," explains Wells. "It took six months to find him - I'd gone to see loads of horses and saw him on the internet for sale. I fell in love with him on the video, which rarely happens for me.

Sophie and Jorge (credit: British Equestrian / Jon Stroud Media)
"He was down in Guildford and we bundled in to a car one evening and got there quite late to see him. I only rode him once, which isn't normally the case, you'd normally try a horse a couple of times, but I just knew with him.
"I was trying not to get excited as you almost have this dread that it's too good to be true. I don't have an emotive face but I couldn't hide the smile. My coach who came with me knew without even talking to me that I loved him. He just had something about him that caught my attention."
Less than three years later, the pair competed at their first major championships, winning team gold and individual and freestyle silver at the 2015 European Championships.

Trust was key: Jorge and Sophie
A reserve horse for Rio 2016 - Wells rode Valerius at those Games – by the following year Jorge's form had continued to improve and he soon became Wells' 'top horse'.
Building the relationship and trust between horse and rider was key.
Wells explains: "It wasn't until the Championships in 2015 that I realised…he's quite a spooky horse, he's confident in himself but not confident in environment, so quite often you trot round the outside of the dressage arena before you enter, but with him – two and a half years after I got him - I realised that he needed to walk round on a long rein.
"It was a big learning curve for me and for everyone around me, as it looks quite odd when you enter the field of play as if you are leaving it. But for him it was a huge thing as he felt less pressure and had time to take in his environment and then he was okay to pick up and go."
Jorge lives on Wells' parents farm a few miles from her own home and as well as training together four times a week, hacking and doing strength and conditioning work in the stables, it is Wells who is there each morning for feeding time and in the evening when the horses are ready to rest. For Wells, that shared time and trust is "all important and it will hopefully pay off."
You could have the best horse in the world or the best rider in the world, but if they don't have the relationship between them you're not going to perform.
"You could have the best horse in the world or the best rider in the world, but if they don't have the relationship between them you're not going to perform. I do think that the time spent with the horses and the time spent developing that relationship and doing all the small things make a big difference. I spend a lot of time with him, which he enjoys most of the time although he likes to be in his stable eating and sleeping on his own – he's that sort of character, he loves his food and he loves a nap."
As for Tokyo 2020 – at 14 years old this will be Jorge's first and last Paralympic Games so Wells is determined to "make it a good one."
"I'd love to do our personal best performances to peak there," adds Wells. "We are putting everything in to trying to achieve our best performance in Tokyo and the rest is down to the judges. "We have strong competition internationally now. We can't do anything about our competitors but we can do something about our own performances and we will go out there and be as prepared as absolutely possible."
Join the ParalympicsGB movement
Join
The ParalympicsGB movement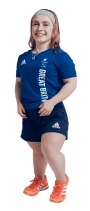 We may include relevant updates from our trusted partners, but will never sell your data on. We take your privacy seriously and you can opt out at any time Privacy Policy