Sagar eyeing Tokyo glory to complete perfect comeback story
Having made the perfect return to wheelchair basketball's international scene, Paralympic medallist Ian Sagar insists he is hungrier than ever to claim his sport's ultimate prize at Tokyo 2020.
The 37-year-old helped Great Britain claim their seventh European title in Poland in September, after taking a three-year international break following the Rio Paralympics.
Sagar, who has lived in Italy since 2012 and until recently plied his trade for Briantea84 Cantu, insists time away from the top level was necessary to settle a number of personal matters.
And after enjoying a winning return with the fourth European title of his career, he is now more determined than ever to make any sacrifices necessary to be sure of a spot on the plane to Japan.
"The life of an athlete is somewhat glamorous and very exciting," he said. "But it's not a very long career and I needed to get a few plans in place to look after my family.
"My wife's Ukrainian so there were things to sort out with visas and moving house, and I started working part-time to build my future for after I've retired.
"If I hadn't taken a break from GB, I would've finished basketball altogether because I was sinking, but I always intended to come back to the international setup eventually and it's worked out well.
"But my place at Tokyo isn't guaranteed so I'm giving it 100 per cent. The Paralympics is the pinnacle of anyone's career, and I know it could be my last chance to get the gold medal.

Ian Sagar helped GB claim bronze in Rio
"I made the tough decision to leave Cantu because I wasn't playing the role that Great Britain need me to play, and although I was captain of the team and there for many years, I knew it was what I needed to do.
"Luckily another team close to where I live - Special Bergamo Sport - have given me the chance to do what I need to for GB. I'm not scared of making difficult decisions because a chance to compete at a third Paralympics is so important to me."
Sagar was part of the GB side which agonisingly missed out on a podium place at London 2012, but went on to claim bronze four years later in Brazil.
And having experienced a whirlwind of emotions at the previous two editions of the Paralympics, the Yorkshireman admits there will be added motivation for success next summer.
He said: "London was fantastic, but I felt like I'd failed, and it took me a long time to get over it.
"I didn't want to go home and face my mum because I'd sacrificed so much for two years and I told her I'd come back with a medal and I didn't. My heart was breaking.
"By the time Rio came around I was playing for my family because I'd met my wife and had two stepchildren.
"Now I've got a brand-new son called William, so I'll be playing for him this time. I've finished fourth and third, so the next thing to do is make the final, and then go on and win."
London was fantastic, but I felt like I'd failed, and it took me a long time to get over it.
Having won the European Championships to add to their world crown in 2018, Great Britain will head to the Games as the team to beat.
The team have three silvers and five bronzes from 13 Paralympic appearances, but Sagar is confident his side can finally claim an elusive gold medal in Japan.
"We're there with the best in the world, and we've just got to make sure we keep improving," he said.
"We can't get ahead of ourselves because you're only as good as your previous game, but I think we deserve to get to a final and this is our best chance yet.
"I've got a bit of time to spend with my son now, but my flights for all the training camps are booked and I can't wait to get stuck in ahead of next summer."
Joint the ParalympicsGB movement
Join
The ParalympicsGB movement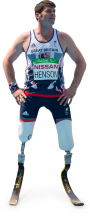 We may include relevant updates from our trusted partners, but will never sell your data on. We take your privacy seriously and you can opt out at any time Privacy Policy