Roberts powers ParalympicsGB to historic wheelchair rugby gold
Jim Roberts provided the firepower as ParalympicsGB claimed their first-ever wheelchair rugby medal - and it was a gold too.
Roberts top scored with 24 tries while Stuart Robinson weighed in with 14 as Great Britain took an early lead against the United States and never let it go.
In the group stages against the same opponents, they were leading by five tries but finally slipped to a narrow defeat, this time – with the pressure turned up to the max – they held their nerve for a stunning 54-49 victory.
Anyone who has seen the famous 2005 documentary film 'Murderball' knows about the sport, players using their wheelchairs as battered bumper cars in an end-to-end game repeatedly punctuated by thrills and spills. It captures the imagination of the public at each Paralympic Games.

ParalympicsGB fought hard to get revenge over United States, who beat them in the group stage
Rules are straightforward – carry the ball over the try line by any means possible.
In Chuck Aoki the USA have the sport's superstar, a scoring machine the British team brilliantly negated, forcing him to give up two decisive turnovers in a match in which they always had the momentum
"We have been used to going home disappointed so that's what it makes it better. We've had a lot of disappointments, but those last two games were incredible," said co-captain Chris Ryan.
"We knew we were good, but we had never got over that hurdle in a major event. It's unbelievable - they're getting better. It really is quite incredible."
Roberts and Robinson may get the glory but artful blockers Jonathan Coggan and Ryan Cowling made a huge contribution, as the Americans were shutout by the British defence.

ParalympicsGB made history as the first-ever European nation to win a Paralympic wheelchair rugby medal
"They always get the glory because it's scoring goals and that's the name of the game," said Cowling. "We provide those blocks and those areas to push in so we're just as useful as them.
"It's very surreal to be honest. We came into the competition thinking that we could do well, but to come away with gold, it's beyond our expectations really. We wanted to be that first European rugby team to medal at the Paralympics and we did more than just medal - we won gold!"
Kylie Grimes became the first woman to win a wheelchair rugby gold and insisted mixing it with the boys was what made it special.

Kylie Grimes became the first woman to win a wheelchair rugby Paralympic gold medal
"I don't want a women's league, I want to stay with the boys," she said.
"I'd love it to always stay a mixed team. It is unique, different, brings different elements and I'd personally love playing with the boys and would not want that to change.
"I hope I can inspire girls to give it a go. Women can match the men. It's about tactics, skills, using the brain, using the top two inches when you need it under pressure."
Join the ParalympicsGB movement
Join
The ParalympicsGB movement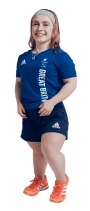 We may include relevant updates from our trusted partners, but will never sell your data on. We take your privacy seriously and you can opt out at any time Privacy Policy