PyeongChang 2018: Knight, Wild and wheelchair curlers look to carry form into day two
The perfect first chapter
Making a mark on the Winter Paralympic Games doesn't come much bigger than a silver medal in the very first race of competition.
For Millie Knight and Brett Wild that was reality as opposed to dream, brilliantly skiing onto the PyeongChang 2018 podium in the women's visually impaired downhill curtain-raiser.
That capped off an action-packed opening day on the snow and ice for ParalympicsGB, with Para alpine skiing, Para Nordic skiing and wheelchair curling all on the agenda.
Here's the best of what happened and a look to what's coming up on day two in PyeongChang.
From Sochi flagbearer to PyeongChang medallist, the Winter Paralympic Games is creating a host of treasured memories for Millie Knight.
Knight and her guide Brett Wild produced an outstanding run to finish in second place in the women's visually impaired downhill to win a superb silver medal for ParalympicsGB.
Knight said: "I literally can't stop smiling. This is amazing, the year we have had to get here, it has been a struggle. I never really thought we'd be back in this position.
"This time last year I crashed at the finish line here and sustained really bad concussion and I really didn't think we'd get here."
It wasn't to be for Menna Fitzpatrick meanwhile, opening up with the very first run of the entire Games with Jennifer Kehoe, and despite a quick start, the two recorded a DNF.
They won't have long to reflect however with day two seeing Millie and Brett, Menna and Jen taking on the super-G – joined in the starting gate by reigning Paralympic champion Kelly Gallagher and her guide Gary Smith.
For Gallagher this will be the opening chapter in her PyeongChang story – in the event in which she won gold four years ago.

Full speed ahead for Millie Knight
The boys take to the piste
ParalympicsGB's two male alpine skiers also got their Games underway – with both James Whitley and Chris Lloyd putting in impressive performances.
For Whitley, that included a strong top-ten finish in his downhill race, a time of 1:29.85 to thank for that at the Jeongseon Alpine Centre.
His teammate Lloyd finished in 20th-place in his very first race at a Paralympic Winter Games, four years after taking part in the Paralympic Inspiration Programme at Sochi 2014.
Both Whitley and Lloyd are back in action in the super-G on day two, taking to the slopes at the same time again on Sunday morning.
Day one: Women's downhill, visually impaired - Millie Knight and Brett Wild - silver (1:30.58), Menna Fitzpatrick and Jennifer Kehoe - DNF
Men's downhill, standing - James Whitley - 10th (1:29.85), Chris Lloyd - 20th (1:34.00)
Day two: 09:30-13:00 (00:30-04:00 UK time) Women's Super-G, visually impaired - Millie Knight and Brett Wild, Menna Fitzpatrick and Jennifer Kehoe, Kelly Gallagher and Gary Smith
09:30-13:00 (00:30-04:00 UK time) Men's Super-G, standing - Chris Lloyd, James Whitley
Meenagh ends 20-year Para Nordic wait
Two decades had passed since a Para Nordic skier represented ParalympicsGB at a Games but Scott Meenagh ended that long wait on the opening day at PyeongChang 2018.
Terry Ahrens at Nagano 1998 was the last competitor to feature in the discipline but the men's biathlon 7.5km sitting saw all that change for Meenagh who finished the 7.5km biathlon in 18th place in his first ever Paralympic race.
Part of the Paralympic Inspiration Programme at Sochi 2014, the former rower is back at it on Sunday morning – this time in the cross country – with a 15km race on the agenda.
Day one: Biathlon: Men's sitting 7.5km - Scott Meenagh - 18th (27:28.10)
Day two: 10:00-11:35 (01:00-02:35 UK time) Cross country skiing: Men's sitting 15km - Scott Meenagh

Let's shake on it: Great Britain celebrate their first win
Curlers get off to dream start
Skip Aileen Neilson had called for a fast start from the wheelchair curling team and the British rink certainly delivered, winning their opening match 5-2 against world champions Norway.
In a constantly-tight game, Neilson drew for two in end four as Great Britain took a two-shot lead – one they still maintained heading into the eighth and final end.
That was after a superb pressure shot from the skip in the seventh, weighting her stone to perfection to take one point when Norway had threatened to take two and turn the game on its head.
That two-shot lead proved enough as the rink got a first win on the board, though they know there is a long way to go with 12 teams involved in the round-robin stage.
Saturday will see the British quintet of Neilson, Gregor Ewan, Bob McPherson, Hugh Nibloe and Angie Malone play two games, beginning with Switzerland in the first session.
After that comes a clash with Finland, with the team looking to put themselves in the best position possible in a bid for the semi-finals.
Day one: Great Britain 5-2 Norway
Day two: 09:35 (00:35 UK time) Great Britain v Switzerland - Aileen Neilson, Angie Malone, Bob McPherson, Hugh Nibloe, Gregor Ewan
19:35 (10:35 UK time) Great Britain v Finland - Aileen Neilson, Angie Malone, Bob McPherson, Hugh Nibloe, Gregor Ewan
Joint the ParalympicsGB movement
Join
The ParalympicsGB movement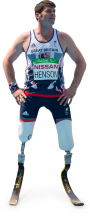 We may include relevant updates from our trusted partners, but will never sell your data on. We take your privacy seriously and you can opt out at any time Privacy Policy