Partnerships on and off the water powering Rowles towards Paralympic glory
A special partnership on the water and a new one off it has Lauren Rowles dreaming big in Tokyo.
Laurence Whiteley spent two years frantically searching for a partner in the Paralympic rowing mixed double sculls event before former wheelchair racer Rowles answered his call, an accelerated courtship resulting in the pair winning Paralympic gold in Rio.
It's a title they are hot favourites to defend in Japan, where Rowles will also be cheering for new girlfriend Jude Hamer, a member of the British wheelchair basketball team.
Rowles and Whiteley hadn't competed in 18 months, since they'd won their first world title, when they took to the water at the European Championships earlier this year.
But they'd not lost the winning habit, beating long-term Dutch rivals Annika van der Meer and Corne de Koning by nearly ten seconds, becoming the first pair to hold World, European and Paralympic titles at the same time—a feat they're keen to repeat.
Despite all the roadblocks and challenges in our way, that has just grown us as a crew
"We've learnt a lot about each other in the past five years, we've come on leaps and bounds," said Rowles, who is one of over 1,000 athletes to benefit from National Lottery funding, allowing her to train full time and access world class facilities, technology, coaching and support teams.
"Despite all the roadblocks and challenges in our way, that has just grown us as a crew and ultimately it has just grown our partnership.
"That's been really special, to see us come together and overcome things both in and outside the boat that have challenged us. I'm proud of how we've supported each other through those times.
"Lawrence and I have this really strong bond and while we didn't train together for a long time, as soon as we were back in the boat, it was just like clicking back into the old routine, like we'd never been away.
"It was all so new when we were on the start line in Rio, we barely knew each other really."
Rowles broke rowing's 2km indoor world record for her age group during lockdown, but the five years between Rio and Tokyo have not been easy.

Laurence Whiteley and Lauren Rowles celebrate their gold ar Rio 2016
Just a year after winning gold in Brazil, Rowles was lying in a hospital bed ready to give up the sport, a seemingly never-ending cycle of injury, rehab, recovery and injury shattering her self-belief.
She admits to finding the post-Games blues hard enough to handle, but then made the difficult decision to have major surgery on her back, followed by another injury when she tore her hip.
"I never thought I'd say this a couple of years ago, but I'm in the best shape of my life," she adds.
"In the first two years of the Paralympic cycle my health wasn't great. I was ready to retire and just decided that I didn't want to continue on. It was just risking my physical and my mental health.
"I struggled with making the decision to go through surgery, which was really invasive. I'm a young woman who cares about how I look, I like going out and dressing up and did I want the scars the surgery would give me?
"When I hit rock bottom, I finally resolved to stay with my Paralympic dream, then it felt like nothing was going to stand in my way."
When I hit rock bottom, I finally resolved to stay with my Paralympic dream
To be the best in the world
But recovery from surgery has been about a lot more than Rowles's resilience. Her passion for training is legendary on the team, an unwavering commitment to the cause she shares with partner Hamer, now a three-time Paralympian.
"Lauren is the most driven person I've ever met," said Hamer.
"Super competitive. It blows my mind. It's massively inspiring. I've never met someone who wants to win so badly, and will do anything to win.
"She's just so dedicated to what she does. She won't stop. Winning isn't enough, she wants to be the best in the world."
When most of England was celebrating 'Freedom Day' on July 19, the couple was saying an emotional goodbye. The risk of giving each other Covid, they decided, was too high, Neither wanted to be the cause of ending the other's medal hopes, so they agreed to stay separate in the weeks leading up to the Games.
It was also a shared love of fitness that brought the pair together.

Lauren Rowles trains in her garden during the first wave of the Coronavirus pandemic
Love blossoms through CrossFit
"Jude and I are both really into CrossFit," said Rowles, "and we'd started doing sessions with other women from Paralympic sports during lockdown.
"We were like 'you know what, we need to keep training girls, let's support each other', then I kind of on the sly started training one-on-one with Jude.
"We would just come up with the craziest training things and I'd be like 'alright then, I'll do it.'
"When rules relaxed a little bit and we were allowed to have a bit of a summer last year, we started meeting up and it went from there really."

Rowles and Whiteley celebrating in their boat after winning the European Championships
It's been ten years since a 13-year-old Rowles woke up one morning, paralysed from the waist down. One year later she was inspired by London 2012 – which she watched from her hospital bed at Stoke Mandeville – to take up wheelchair racing, becoming the youngest member of the England athletics team at the 2014 Commonwealth Games in Glasgow.
Thanks to National Lottery players, the fortunes of ParalympicsGB have transformed over the past two decades, helping Britain become one of the best sporting nations in the world.
It was Rowles chance discovery of rowing, following a lucky meeting with a member of the sport's talent identification team, that completely changed her life.
I just love being on the water, even when I retire I'm still going to row
"I think I knew the very first day in the boat," she said. "The feeling of freedom it gave me is like nothing I ever experienced.
"I learned so much with athletics, I learned what it means to be an athlete, but rowing taught me why I love sport."
Though Hamer might argue otherwise, Rowles insisted: "It's not about medals and it's not about winning, it's about loving being on the water every day and enjoying every stroke you take.
"I just love being on the water, even when I retire I'm still going to row."
You rather sense that retirement could be some years off.
Join the ParalympicsGB movement
Join
The ParalympicsGB movement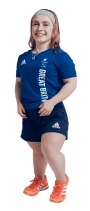 We may include relevant updates from our trusted partners, but will never sell your data on. We take your privacy seriously and you can opt out at any time Privacy Policy