ParalympicsGB Tokyo 2020 Friends and Family
As the buzz of excitement towards the Tokyo Paralympic Games begins to build, the involvement and support from friends and family for each athlete on their journey to Tokyo will be increasingly important. Your approach can both positively and negatively impact on an athlete's preparation and performance, and so we know that the friends and family of our Paralympic athletes are critical to the success of our athletes and the team.
Below you'll find useful information and resources for before and during the Games with more information being added as we have it.
The ParalympicsGB Friends and Family team is led by Clare Cunningham, our Athlete Services Manager and a retired Paralympian. Each sport will also have a designated Friends and Family liaison, who will share updated information with you, in the form of regular newsletters.
Nirvana Europe is our approved travel partner and Approved Ticket Reseller (ATR) for spectator tickets to sport events, Opening and Closing Ceremonies at the Tokyo Paralympic Games. Nirvana can put together a travel package to meet your needs.
As a general rule Japan is an exceptionally safe country. The threat from terrorism and crime levels are widely regarded as 'low' and most visits by British Nationals pass without incident.
However, Japan has a very different culture to the UK and visitors need to be mindful of this. Whilst appearing progressive, high tech and modern, the Japanese culture is actually very traditional, sensitive and compliant with its roots firmly embedded in courtesy and order.
The best place for up-to-date travel advice is the Foreign & Commonwealth Office (FCO) website: https://www.gov.uk/foreign-travel-advice/japan
It is recommended that you subscribe to the travel alerts as well as the Embassy pages on Twitter and Facebook which send out occasional updates and reminders.
Joint the ParalympicsGB movement
Join
The ParalympicsGB movement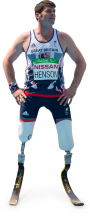 We may include relevant updates from our trusted partners, but will never sell your data on. We take your privacy seriously and you can opt out at any time Privacy Policy