ParalympicsGB set to enter Opening Ceremony in style
The PyeongChang 2018 Winter Paralympic Games will officially begin today with flagbearer Owen Pick set to lead the ParalympicsGB team into the stadium for the Opening Ceremony, live on Channel 4 at 10:55am (UK time).
In total 17 British athletes will compete in a record five sports across a nine day schedule in what is set to be an historic Games with more athletes competing than ever before.
ParalympicsGB will be represented in Para Snowboard for the very first time when Ben Moore, Owen Pick and James Barnes-Miller take to the slopes while Scott Meenagh will be the first British athlete in Nordic Skiing for 20 years when he competes in the cross-country and biathlon events.

Owen Pick and Menna Fitzpatrick: You've got to love that lining
The Opening Ceremony of the Paralympic Games is always a key moment for athletes and supporters alike, but not everyone scrutinises the details like leading fashion brand ASOS. At the Rio 2016 Opening Ceremony one thing in particular struck the ASOS design team that had been charged with producing ParalympicsGB's outfits: a huge array of countries share the red, white and blue colours.
With that in mind, and as PyeongChang 2018 fast approached, the team went back to the drawing board with the clear goal of creating a set of bold Ceremony outfits that made an impact and wowed the world.
And, with the PyeongChang 2018 Winter Paralympic Games Opening Ceremony taking place on Friday, it is fair to say that ParalympicsGB's athletes will take some beating when it comes to style.
As well as being reversible – for use at Opening and Closing Ceremony – the Ceremony jacket is also wind and shower proof and proved to be a challenge for the team to ensure everything about it was both stylish and practical.
"The coat is just such a hero piece," added Womenswear Head of Design Aisling McKeefry. "But there was so much to consider from a technical point of view, it proved to be a real labour of love.
"But getting to see the athletes walk out in the gear makes it all worth it. For Rio I was watching live and was filming it at the same time on my phone and it was one of those ASOS moments of being completely proud of what we had done. It was incredible."
The Opening and Closing Ceremony clothes are two of three outfits designed by ASOS exclusively for ParalympicsGB in the continuation of a partnership that began prior to Rio 2016 – with the ParalympicsGB formal wear having been unveiled at the Team Launch in February.

"We saw so many other countries with the same colours in Rio so we knew that we had to make sure ours has more impact," said James Lawrence, Head of Menswear Design at ASOS.
"We also spoke to the BPA who asked for more logos so we put the two ideas together and the jacket was born and that was the starting point for everything else.
"The most important thing for us was that we wanted the athletes to get a real sense of pride from what they are wearing so making a statement was crucial.
"Rio was the first time we had done anything like this so there were a host of learnings from that and we took everything on board."
As well as the jacket athletes will have check knitwear and a ParalympicsGB scarf, all featuring special touches and trims of gold.
And, while James and Aisling will take a moment to pause and reflect on that journey when the 17 ParalympicsGB athletes don their ASOS Ceremony wear, it won't be long before they turn their attention to the next challenge.
"We start the design process for Tokyo in May so it starts all over again," James added. "That gives us a year to get the final samples. But we'll have it totally nailed for next time having been through it twice now.
"This is slightly different because it's winter and the next one won't need to be as technical in the same way but I think those learnings are huge and we are learning all the time."
Joint the ParalympicsGB movement
Join
The ParalympicsGB movement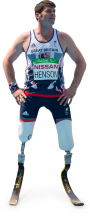 We may include relevant updates from our trusted partners, but will never sell your data on. We take your privacy seriously and you can opt out at any time Privacy Policy