The inside track: Meet Kadeena Cox
We caught up with ParalympicsGB trailblazer Kadeena Cox who became the first athlete to win gold medals in different sports for 32 years at Rio 2016.
What does being part of ParalympicsGB mean to you?
It is an honour to be part of ParalympicsGB. When I was first diagnosed with MS it gave me hope and it gave me a dream as I knew I wanted to be part of the team. I had watched London 2012 and thought that looks so cool, so it was just incredibly special to be able to represent my country and be part of such an amazing team.
How did it feel to be the Rio 2016 flag bearer?
I thought Penny (ParalympicsGB Chef de Mission) was calling me to tell me off! It caught me off guard – I knew there had been so many amazing performances at Rio 2016 I just wasn't expecting it. To be asked to represent the best ever ParalympicsGB team as the flagbearer made me feel so proud.

Kadeena at the Rio flagbearer announcement
How did the British Paralympic Association team support you at Rio 2016?
They really are the team behind the team – an incredible amount of work is done before the athletes even get there and not enough credit is given to them. The set-up in Rio was brilliant we had a stretching room, therapy rooms and places for relaxation where we could watch TV or play table tennis. It wasn't until I spoke to other teams that I realised they just did not have anything like we had. I had a few issues with injury towards the end of the Games and the doctors and physios were always there to support me. The BPA helped create a bubble that was an amazingly happy place to be.
Looking ahead to Tokyo 2020, how are your preparations going?
I am quite a positive person and I now think having the extra time has been a blessing – physically I am in a better place now. Initially I worked on my injuries and I had the chance to rehab as competing in two sports I didn't really have time off to recover before. I am really looking forward to showing the world what I can do and being a better version of Kadeena than I would have been if the Games had gone ahead this year.
I know it's going to be tougher as I was an unknown at Rio 2016 and there are some really strong athletes competing against me, but I am challenging myself to go out there and win gold medals.
The 2020 International Day of People with Disabilities theme is 'Not all disabilities are visible' – what does that mean to you?
I think it's really hard for people to understand invisible disability. I have a lot of neurological pain, fatigue, brain fog and issues with my bladder and those are the parts of disability not everybody sees because you are not in a wheelchair or visibly missing a limb. People just make an assumption that you have to see a disability which is a misconception of what a disability can actually be.

What are the challenges of living with a hidden disability and what advice would you give to others?
From the point of view of someone who is non-disabled I would say just be open and don't make assumptions. People being receptive to the fact that somebody might still need your help even if you can't see a disability. Don't think if you can't see it – it's not there.
For disabled people I would say don't be offended by people's lack of understanding take it as an opportunity to educate. I believe there's beauty in an opportunity when someone says I am not disabled I can explain to them that not all disabilities are visible and that can be a lightbulb moment for them and they can share it with family and friends.
Who is the most influential person in your career?
My second athletics coach Brian Scobie who has been around for decades. He took me under his wing when I was around 15 years old. Initially I was scared of him as he was grumpy and used to shout but he became like a father figure to me, he took me to competitions, and he dropped me home again. Brian and his wife gave me amazing support when I first got ill, I could barely walk and they really helped me get back physically and didn't see me as Kadeena with a disability they just saw me as Kadeena, the athlete, with a new challenge and just looked at new ways I could be the athlete I wanted to be. A great guy with so much knowledge, Brian definitely made me the athlete I am today
What makes you Impossible to Ignore?
I am challenging the norms – wanting to try and get more opportunities for people with disabilities, to get us in to the media so people really understand and see us as athletes rather than athletes with disabilities.
I am also the first black person to ever win a gold medal for British Cycling across non-disabled and disabled athletes. I am trying to create more diversity and equality and be a role model for people – open the doors and show people that we are able to do absolutely anything.
Join the ParalympicsGB movement
Join
The ParalympicsGB movement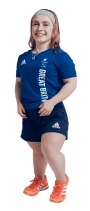 We may include relevant updates from our trusted partners, but will never sell your data on. We take your privacy seriously and you can opt out at any time Privacy Policy