Meenagh enjoying the company of new faces ahead of Para Nordic Worlds
Scott Meenagh knows all about blazing a trail on fresh snow but now he's relishing having company at the upcoming World Para Nordic Skiing Championships.
The 29-year-old became the first British Para Nordic skier in 20 years to represent his country at the Paralympic Winter Games in PyeongChang and, 12 months on, he's off to the World Championships in Canada.
But this time, Meenagh isn't alone, as a five-strong GB squad are set to compete on the Prince George snow – with competition getting underway this weekend.
It promises to be a landmark championship for the Brits as Meenagh, along with teammate Steve Arnold, is set to compete in every cross country and biathlon event at the Worlds.
They are joined by a pair of Paralympians from other sports transitioning to Para Nordic skiing – ex-sledge ice hockey and sailing star Steve Thomas and former cyclist and rower Rachel Morris – as well as new face Callum Deboys.
The environment and the atmosphere has changed. We're constantly challenging each other – it's just phenomenal.
And Cumbernauld native Meenagh is ecstatic to no longer be a lone ranger at the highest level.
"It's fantastic. It's great to see the team growing so much," he explained. "The environment and the atmosphere has changed. We're constantly challenging each other – it's just phenomenal.
"I think having the wealth of experience from Rachel (Morris) is great and she comes from a really decorated sporting background.
"She's a very mature athlete who's been a part of really well-established and successful programmes.
"I think that what she brings to this group is really special but we also have the experience of other guys: Steve Thomas – who's a multi-Paralympian – brings a level of calm and attention to detail.
"We're a group who contribute and we like to invest in each other's journey as well, so that experience is very much shared across the board."

Scott Meenagh raced six times in PyeongChang, with his best result coming in the men's 12.5km sitting biathlon - where he finished 13th
Former rower Meenagh – who trained with double Paralympic gold medallist Morris during his time on the water – has enjoyed a rich vein of form since the start of his season in December.
Recording top tens in consecutive World Cup events – including a fifth-place finish in the long-distance sitting race in Ostersund – sees him well-placed for a tilt for the top in Canada.
And all that success has come in spite of his recent recovery from surgery that he chose to undergo in the wake of PyeongChang – a decision that Meenagh is finally seeing the benefits of.
"Post-Games I had quite significant surgery this year, so I had a shortened season but I think it's given me a chance to strip things back and focus a lot on the basics," he said.
"It takes a lot of confidence to take that step backwards. The fact that I'd been able to get to the Games really helped me have the confidence to take that step back, because I knew that it was the right thing in the long term.

Scott Meenagh will compete in every biathlon and cross country event at the upcoming Para Nordic World Championships
"I've built really nicely into the season. I'm really looking forward to building on some promising performances so far.
"It's been good – I've got a lot of work to do in the coming years, but as far as this season's gone it's been great.
"I'm looking forward to hopefully backing up some of those performances and perhaps bettering them at the World Championships."
2019 World Para Nordic Skiing Championships (GB athlete events only)
Sat 16 February: Biathlon sprint (Steve Arnold, Scott Meenagh)
Sun 17 February: Cross Country middle distance (Steve Arnold, Callum Deboys, Scott Meenagh, Steve Thomas; Rachel Morris)
Tue 19 February: Biathlon individual (Steve Arnold, Scott Meenagh)
Wed 20 February: Cross Country sprint (Steve Arnold, Callum Deboys, Scott Meenagh, Steve Thomas; Rachel Morris)
Fri 22 February: Biathlon middle (Steve Arnold, Scott Meenagh)
Sat 23 February: Cross Country relay
Sun 24 February: Cross Country long (Steve Arnold, Callum Deboys, Scott Meenagh, Steve Thomas; Rachel Morris)
Join the ParalympicsGB movement
Join
The ParalympicsGB movement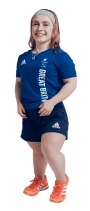 We may include relevant updates from our trusted partners, but will never sell your data on. We take your privacy seriously and you can opt out at any time Privacy Policy