Kim Daybell joins NHS frontline in fight against COVID-19
The postponement of the Tokyo 2020 Olympic and Paralympic Games until next year has put many athletes' dreams on hold but one of the British Para Table Tennis Team's performance squad is putting his other skills to very good use in the fight against the COVID-19 pandemic.
Two-time Paralympian Kim Daybell completed his medical degree in 2018 and has since combined his table tennis with working part-time as a junior doctor in the Whittington Hospital in North London. He was due to start training full time for Tokyo this week but is instead working full time at the hospital on the frontline of the NHS's battle against the coronavirus.
"I was coming to the end of my F1 year," said the 27 year old from Sheffield, "and due to be finishing to train full time but they asked if I would come on a full time rota, which I have started doing this week. I'm finishing surgery and will be a medical SHO (senior house officer) managing COVID patients. Hospitals have shut down all their non-urgent treatment and policies have changed. We are avoiding all non-coronavirus related admissions at all cost as long as it is safe to do so and most people are being treated in their community for lots of different things. People come to hospital if they have the coronavirus and need support like oxygen and if they are well enough to leave they get sent home. Every day they open up another ward to be a coronavirus ward and most wards are filling up by the day.

Daybell serving at Rio 2016
"The vast majority of the general public are doing the right thing and are staying at home. But there are still lots of people who aren't and there is this grey area between people who are conscientious and they are trying but they have got relatives or partners who they don't live with. They think if this is going to go on for months we need to see each other which is understandable but in the current climate it is not acceptable. If you don't live with the person you can't socialise with them at all.
"It is obviously difficult and a big sacrifice for a lot of people and that is just how it has to be. It might not be your relatives or friends who are affected by it at the moment but somewhere down the line it will be someone you know who ends up in hospital on a ventilator. Looking at the other countries and how they have managed things the only true way to flatten the curve and slow the spread is to self-isolate and to make sure everyone is adhering to those rules. There is no way round it and it is going to be hard and everyone is going to suffer but it has to happen for us to keep a handle on things."
As someone who was hoping to compete in his third Paralympics later this year Daybell is in a unique position to appreciate how the postponement of Tokyo 2020 has hit many athletes hard while also being seen as relatively unimportant by the public in the current global situation.
"I think people might say 'well they just have to wait a year' and when you put things into perspective it is not a big deal – it will happen. But as an athlete I can appreciate the difficulties that other athletes are going through now. A year is a long time in sport – especially Paralympic sport with the athletes who have deteriorating conditions and who's to say where they will be in a year's time. All the athletes have been gearing themselves up for this year and there is a lot of stress and high pressure involved and for all that to just dissipate is very difficult.
"But for me personally, I want to try and help as best I can and it is quite nice to be able to do that. One of the things that people seem to be struggling with is that feeling of powerlessness where they can't do anything. I'm lucky to have the skill-set to help fight what is going on and that is a positive that I'm taking. Obviously table tennis has completely taken a back seat now and sport has as well but it will always be there for me so I'll keep it in mind for when this blows over. But for now we just need to focus on making sure everyone stays healthy and looking after each other.
"The main thing is to stay vigilant and be strong. What is happening is very difficult but it is very serious and we have to come together now with a sense of community – be vigilant, be strong and stay safe."
By Francesca Bullock, British Para Table Tennis
Joint the ParalympicsGB movement
Join
The ParalympicsGB movement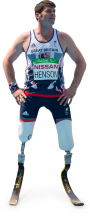 We may include relevant updates from our trusted partners, but will never sell your data on. We take your privacy seriously and you can opt out at any time Privacy Policy