Karabardak, Perry and Wetherill defend European table tennis title
Paul Karabardak, Martin Perry and David Wetherill successfully defended their European title in class 6 at the European Para Table Tennis Championships in Helsingborg.
Aaron McKibbin, Billy Shilton and Ross Wilson were silver medallists in men's class 8 and Kim Daybell, Ashley Facey Thompson and Joshua Stacey took bronze in men's class 10.
Karabardak and Wetherill started their semi-final against France with a 3-0 win in the doubles but Wetherill, who had heart surgery only last month, had to dig deep to come back from 2-1 down to beat former world No 1 Bastien Grundeler 11-6 in the fifth to take his team through to the final against Greece.
The British pair made the perfect start by winning the doubles against Georgios Mouchthis and Marios Chatzikyriakos 3-0 but Chatzikyriakos kept Greece in the tie with a 3-0 win against Karabardak.
Wetherill again had to battle his way into the match after losing the first set and when Mouchthis won four points in a row from 10-5 down, coach Andrew Rushton called a time out and Wetherill clinched the set 11-9 to level at 1-1. He took the next 11-2 and secured the gold 11-6 in the fourth.
I didn't play well in the semi-final and that took it out of me a bit but the big W is what matters
Wetherill said: "I felt very confident going into the final singles and maybe the only time that confidence wavered was when he won a few points at 10-5 in the second and a little bit of negativity came into my brain.
"But we called a time out and winning that set was crucial as I never felt I was going to lose after that. I was very tired – I didn't play well in the semi-final and that took it out of me a bit but the big W is what matters.
"I didn't even have the energy to celebrate at the end – that is how tired I am. Sometimes my bones turn to concrete and it is hard to get the feel for the ball but I was just pleased to get the win to be honest.
"We were expected to win so there was a bit of pressure on us which is why it is nice to come through. It has been a good week and I would have taken it five days ago."
McKibbin, Shilton and Wilson took bronze in men's class 8 team two years ago and they improved on that by beating Sweden in their semi-final. McKibbin and Wilson won the doubles 3-0 and world champion Wilson then recovered from dropping the first set to beat Tobias Andersson 3-1.
They faced world and Paralympic champions Ukraine in the final and made a great start by taking the first set in the doubles and had points to take the second but Viktor Didukh and Ivan Mai came back to win it 12-10.
They took the third by the same score before winning the match 11-5 in the fourth. McKibbin played well against Didukh but the world number one was just too strong and secured the gold for Ukraine with a 3-0 win.
It was nevertheless a promising performance from the British team with Tokyo 2020 in mind.
Joint the ParalympicsGB movement
Join
The ParalympicsGB movement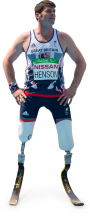 We may include relevant updates from our trusted partners, but will never sell your data on. We take your privacy seriously and you can opt out at any time Privacy Policy