"I've never let having one arm stop me" Hollie Arnold on her time in I'm a Celeb
Covered in fish guts, her head stuck in offal and on a diet of beans and rice, you might think Paralympic champion Hollie Arnold would be glad to finish her stint in the 'I'm a Celebrity' castle.
But you'd be wrong.
"It was probably one of the best things I've ever done," admits Arnold - the first Paralympian, and the first disabled person, to take part in the primetime ITV show. "I absolutely loved it."
Arnold took part in four trials during her time in the camp and her competitive mindset at first got the better of her – most notably when the women were pitted against the men and lost out on a banquet feast.
"I wasn't disappointed that we lost to the boys, but I was disappointed in letting the girls down. The first time I got a bit upset and Giovanna (Fletcher) gave me a hug and consoled me. Going in to the other trials I was like 'I can't be harsh on myself, it's not what I train for, so just go and have fun.' I analyse everything in sport so I tried not to do that."
In her final trial, she was partnered with Shane Richie and had to crawl through a tunnel carrying buckets of water.
"People said I should've been medically exempt from the trial but in my opinion absolutely not. It's a challenge – what I live for every day in training. I wanted to prove to myself and to other people that having one arm and a disability, I've never let that stop me – in life or athletics."

Hollie is comforted by Vernon
After a year severely disrupted by the COVID pandemic, during which Arnold struggled mentally to cope with the postponement of the Tokyo 2020 Paralympic Games, the opportunity to take part in the hit show came as a welcome distraction.
"I felt like after the Games were postponed I had no purpose in life, no structure and no routine. I felt that if I didn't take some mental time off, I might not even do Tokyo," explains Arnold, who won F46 javelin at Rio 2016.
"Being on the show has given me the 'oomph' to go out there. I want to throw the javelin, I've missed throwing the javelin and I think that's one of the best things to come out of the experience."
The friendships made in the camp were also a highlight. Voted first out of the camp, Arnold's task was to set up the celebrity Whatsapp group – called 'Happy Place' – and the bond between campmates remains strong. Plans are in place to meet up as soon as COVID restrictions allow.
"If someone was telling a story you could hear a pin drop. For 12 strangers who don't know each other to be so genuinely interested in each other was so refreshing. To hug people and be close - and not be two metres away with a mask on - it just felt normal again and I think that made me so happy. I never realised you can make such good friends in just two weeks."
While the 26-year-old kept herself busy and active, the restricted diet - 600 calories a day, with the occasional treat – meant energy levels were low; something she found 'mentally tough'.
"I had so many cravings for vegetables and fruit. Training-wise I kept myself busy all the time – doing jobs, collecting wood - but you literally had no energy. It's made me understand the need to fuel myself right. With beans and rice I could hardly do anything; Mo (Farah) and I were suffering, some completely lost their strength."
While Arnold hasn't yet watched the show back, she does plan to – although she admits the prospect is 'a bit scary'.
"There are certain things that were said, like the MBE comments (Arnold introduced herself to her campmates using her full title, Hollie Arnold MBE; jokes and jibes followed on social media), that shocked and disappointed me a little bit. We were all told to say our title and who we are properly; maybe there was a bit of nervousness, it was that panic moment.
"I struggled in the first couple of days when I came out. I've had so many amazing comments, but it's hard not to focus on the negatives. But if that's the worst thing that's come out then I'm proud. I'm sure it could be a lot worse.
"I am a lot stronger and more resilient than I thought. It sounds cliched but I learned to love parts of myself that I didn't before. I've never felt so comfortable in my own skin as I did in those two weeks. I was just happy and I was just me, and that was the best thing to come out of it."
Join the ParalympicsGB movement
Join
The ParalympicsGB movement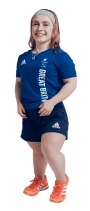 We may include relevant updates from our trusted partners, but will never sell your data on. We take your privacy seriously and you can opt out at any time Privacy Policy