Game of two halves sees GB defeat Finland 9 - 2
While 'a game of two halves' might be the most used sporting cliché around, for ParalympicsGB's wheelchair curlers it proved particularly apt on day two of competition at PyeongChang 2018.
A 7-4 morning-session defeat to Switzerland meant there was a slight hint of early pressure heading into their evening game with Finland.
But, if there were nerves in the first four ends, they were nowhere to be seen when Team Neilson returned for the second half as they blew Finland away to claim a 9-2 victory in seven ends.
"It was a bit of a dodgy first half but we came out firing all guns blazing in the second half and that meant we sealed a really good win," said Bob McPherson.
"We had to pull our socks up and start making some shots. We had a bit of a word from the coach and that was all we needed to start making shots.

"If we make the shots we win the games. In the first half we were making half-shots but in the second-half we came out and we all played at our best.
"They were struggling in that second half and we knew if we got them in the house they would struggle to hit so getting them in was half the battle."
The evening's match started perfectly for Team Neilson as they raced to a 2-0 lead before the Finns pulled back to tie things up after three ends.
A single score in the fourth meant the Brits went into the break with a slight advantage – though Sari Karjalainen's team had the hammer.
But it mattered little in the second-half as a rejuvenated British team put on a clinic of ruthless curling picking up three consecutive twos to take a 9-2 lead after seven ends and seal the victory.
"We actually played OK this morning, it was just some loose shots when it counted that cost us," McPherson added.
"After the morning session the coach just told us to go out there and play the way we know we can play; to play the way that has got us selected to represent our country.
"We did that in that second-half and I think we showed the kind of form that we know we are capable of so it's nice to head back to the village on a high.
"We'll go away and get a good rest now and we'll be back tomorrow to hopefully kick on."
Joint the ParalympicsGB movement
Join
The ParalympicsGB movement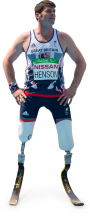 We may include relevant updates from our trusted partners, but will never sell your data on. We take your privacy seriously and you can opt out at any time Privacy Policy