Five years on: Benjamin Pritchard's journey to Tokyo
Five years ago, Benjamin Pritchard lay watching the Rio 2016 Paralympic Games on his phone, in a hospital bed. It was repechage day at the rowing competition in Brazil; Great Britain would go on to dominate, winning three out of the four golds available.
Now, five years on, the Welshman has been selected to represent ParalympicsGB in the single sculls event at the Tokyo 2020 Paralympic Games.

Tokyo ready: Pritchard in his adidas ParalympicsGB kit
"I left hospital with a goal that I was going to be back in sport," explained the 29-year-old, who was admitted to Stoke Mandeville hospital as part of his rehabilitation after crashing during a cycling race which resulted in paralysis below his rib cage.
Pritchard's potential was quicky recognised by British Rowing's Talent ID staff who spent time with him as he rehabilitated and invited him to join their talent programme as soon as he was discharged.
"I didn't leave thinking I was going to be in Tokyo in four years' time, but I definitely left thinking at least there's a sport I can do. Now five years later, look where I am. It's just amazing."
A talented sportsman who competed in cycling and triathlon prior to his accident, and sailed, surfed and worked as a beach lifeguard for seven years growing up at home near the Welsh coast, Pritchard's passion for sport is clear.
"For me, sport is hugely important, it's an intrinsic part of who I am. When you have an accident or a life-changing injury you want that return to some sort of normality - and sport for me was that normality."

Squad goals: our Tokyo 2020 rowing team
In fact, sport plays such an integral part of Pritchard's life, he admits he recently disagreed with his partner over whether or not subscribing to Sky Sports on television was a 'necessity' (it was; he pays). He never misses an episode of the popular BBC sports quiz show 'A Question of Sport' (he'd love to appear on the programme – "that's when you know you've made it") and during the Winter Games he says he is "an avid curling fan". But Pritchard also sometimes needs to remind himself that he too is an elite athlete – not just a fan.
"My auntie has told me that I need to stop and think how far I've come – five years ago I was in a hospital bed; now I'm second in Europe, and fourth in the world," acknowledged Pritchard, who claimed silver at the European Championships in Italy two months ago – less than two years after his maiden World Championships, where he finished fourth.
"You do need to stop and take note. As an athlete it's never good enough, there's always something else around the corner that you are aiming for. For me it was to be selected - now I've got to go to the Games and compete. But at some point I'll stop and think that was really special."
During the national lockdown brought about by the COVID-19 pandemic, Pritchard was thrilled to be part of a Whatsapp group of athletes, set up by fellow rower Lauren Rowles, which included the likes of wheelchair rugby players Aaron Phipps and Jim Roberts, and wheelchair basketball players Jude Hamer and Sophie Carrigill.
"Those guys came and trained with us (in sessions online) – faces that I hope to see at the Games. It's really exciting to feel part of a multi-sport team - that's what I love about Games time.
"I find boccia fascinating. I'm rubbish at bowls and petanque, and you see these athletes with high support needs and they can throw their boccia balls so close to the jack - within millimetres. What a skill. I'm fascinated by that sort of thing and I'm a massive sports fan at heart."
I'll be fighting for that top spot that's for sure.
He may be a fan, but there's no doubting Pritchard's own talent and determination that has enabled him to progress – and impress – at such pace. With the Games now on the horizon, he's determined to give his own supporters plenty to cheer about.
"I finished fourth at the 2019 Worlds so nothing less than fourth place – that's the bottom line for me. Obviously you want to go better than fourth and gold is the pipe dream – I'll be fighting for that top spot that's for sure."
Join the ParalympicsGB movement
Join
The ParalympicsGB movement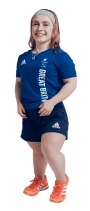 We may include relevant updates from our trusted partners, but will never sell your data on. We take your privacy seriously and you can opt out at any time Privacy Policy