Fitzpatrick: Adapting to a new guide is a big challenge
Ski star Menna Fitzpatrick says she's going back to basics after changing guide for the start of the World Para Alpine Skiing World Cup.
The four-time Paralympic medallist is entering a fresh season on the snow with a new guide for the first time since beginning her storied partnership with Jen Kehoe in 2016.
Kehoe, who also serves as an officer in the British Army, has been called to military duty and will miss the entirety of this year's campaign.
The 21-year-old Fitzpatrick has teamed up with Gary Smith, guide of fellow Paralympic gold medallist Kelly Gallagher, who is currently on maternity leave.
And Fitzpatrick admits that building trust with a new guide has been a tough process, but is willing to sustain growing pains for the long-term gain.
"We're taking each race as it comes," she said.
"The results aren't what we're focussing on at the moment, it's about the process and how we get to the best place that we can be.
It's all about the connection between two people
"We have no medal targets, nothing from the team to put pressure on ourselves.
"It is tough to take, but there's new talent coming through, so we were always going to have a bit of a challenge anyway.
"Although it is a bit annoying being behind, it's a good lesson to learn. It shows you how much it means to you really.
"Gary and I are building up the maximum of where we can ski, so each race and training run is getting closer to where our maximum can be."
Kicking off the new season in Veysonnaz over the weekend, Fitzpatrick and Smith got their first
chance to test the new partnership in competitive circumstances.
They put in a respectable performance in the opening Super-G race of the season, cause for confidence as the Macclesfield native reflects on the culmination of an off-season of grind.
"It's definitely exciting," she continued.
"When you're starting with a new guide you have to really focus on the basics.

Fitzpatrick and Kehoe became Britain's first overall World Cup winners in 2016
"It's not about the skiing at all, it's just about the communication and what works for the visually impaired person behind, because there's different techniques that everyone uses and it's all very individual.
"You build that into your skiing, whether the guide needs to slow down, go faster - it's all about that connection between the two people.
"If you've got that connection you tend to stay together the whole way down, but if you don't have that you get this concertina effect, where you can't get the run back to where you want it."
With Kehoe only set to miss this season, the pair will reunite once she returns from duty, but Fitzpatrick is confident that the experience will serve her well as she eyes World Championships and Paralympics down the line.
"After this season, Jen will be coming back and training and racing for me next season," she said.
"She's really good fun to have about. We would just sit and have a cup of tea and chat for ages in the afternoon, whereas me and Gary don't quite have the same relationship; it's more of a work relationship, but we are still friendly with one another.
"With skiing there's so many variables, anything can happen. Jen could get hurt in one race and I'd have to go with someone else the next race, the next day, so being able to adapt quickly is the aim of the game."
Joint the ParalympicsGB movement
Join
The ParalympicsGB movement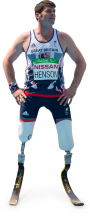 We may include relevant updates from our trusted partners, but will never sell your data on. We take your privacy seriously and you can opt out at any time Privacy Policy