Fachie's grit shines gold
Neil Fachie has the true grit of a man born in the Granite City – and a bunch of gold besides.
The para-cycling behemoth, a 12-time world champion, is as steeped in metals as the city of his birth, Aberdeen, made famous and rich by its quarrying trade.
And as his career at the sharp end of his sport stretches into its 11th year, Fachie continues to chisel out precious gems of performances.
Earlier this month, the Scot and pilot Matt Rotherham clocked a world-leading 59.422 seconds in the male B tandem 1km time trial at the Manchester Paracycling International.

Fachie and Rotherham featured as the UCI Track World Cup welcome para-events for the first time last year
Fachie's self-critical edge is as clear as it is cutting – he defines the sweetness of success against the feeling of failure, and needed Rotherham's roar to register their rip-roaring ride.
"When we crossed the finish line, I was convinced it wasn't a great ride until Matt turned around and asked me what the world record was," said the 34-year-old.
"The nature of the event is that you're slowing down over the finish line and your legs aren't doing anything by the end. You never cross the line thinking 'wow, that felt amazing.'
"It's a physically draining event. It's amazing how good you actually feel when you do win, but when you lose a race it seems to hurt that much more.
"It's hard to compute straight away what you've achieved. It is a great feeling.
"We're in a good position at this point and very much focussed on the World Championships in eight weeks."
If we do what we did there in Tokyo, we'd be pretty confident of at least a medal.
The relationship between stoker and pilot is a sporting phenomenon - requiring teak-tough trust, clarity of communication and an ability to access your partner's psychology in a unique manner.
In the case of Britain's best, it's also interchangeable. James Ball and Pete Mitchell were conquered by Fachie and Rotherham in Manchester, but they have all been paired together in the past.
Yet in Rotherham, a former junior European champion, Fachie seems to have found a perfect counter-point and a relationship to rival his link-up with Barney Storey that yielded Paralympic gold.
The Bolton-born ace, in his own words, 'runs on emotion' and unapologetically puffs his chest out in light of the duo's recent rides.
"We've completely surprised ourselves," said Rotherham.
"It's immense, just before the World Championships, we know we can lay some good groundwork and we'll be flying, really.
"We have an idea on what we need to do to win in Tokyo and based on Manchester, we're not far away. We're in the ballpark already.
"If we do what we did there in Tokyo, we'd be pretty confident of at least a medal."
The task facing these two is to tot up qualification points with Japan in sight – the Manchester Paracycling International was the first event eligible to pick up Paralympic points.

Fachie won silver at the Rio Paralympics back in 2016
Fachie is slightly more withdrawn on markers, having settled for silver in Rio after Dutch riders Tristan Bangma and Teun Mulder smashed a Paralympic record to snatch gold.
But in his own, more wizened way, he is too driven by emotion.
At the very least, this manifests in the desire to be the most prolific medallist in his own family, with wife Lora a reigning Paralympic champion.
"I'm massively hungry to get the gold back," said Fachie.
"Never has a silver medal hurt as much as that one did. It took me months to come to terms with what happened on that day.
"I wondered if it was starting to get to the point of the beginning of the end of my career. I did question myself.
"I was wondering if my ability as a cyclist was deteriorating, it pushed me on to find out how much I needed to improve and in the end there were lots of things I needed to put right.
"Last year when we won the Worlds and the Commonwealth Games, in that two-week period Tokyo became on the cards.
"Getting that title back is something I'll think about every day. I want to win it in style. I can't wait to do it. It's the gap you think about, rather than ones you've won.
"Lora won in Rio and I don't want to be the one to fall behind in that relationship, either! Our joint medal cabinet isn't quite full."
Joint the ParalympicsGB movement
Join
The ParalympicsGB movement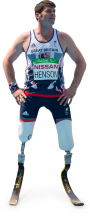 We may include relevant updates from our trusted partners, but will never sell your data on. We take your privacy seriously and you can opt out at any time Privacy Policy