Equestrian team delighted by shock gold
You would think that after notching an incredible 13th Paralympic gold medal, that Sir Lee Pearson knows what he is doing as well as anyone on a horse.
And yet after a shock dressage team test to music gold in Tokyo, the 47-year-old was adamant it was not the case.
He joked: "We just look like we know what we're doing when really we didn't!"
Pearson was riding Breezer, a nine-year-old gelding with limited experience, and it was a similar situation for teammates Natasha Baker and Sophie Wells.
So, despite ParalympicsGB's pedigree in equestrian team events, the expectations of getting a gold medal from the event were minimal heading into Tokyo.
Pearson explained: "We haven't even got a championship horse on this team. These horses have only ever done home internationals. Breezer's done two internationals I think. We did not think and we weren't expected to win gold."
Wells, who produced under pressure to clinch gold on Sunday with a score of 75.651% for an overall total of 229.905, beating the Netherlands by just 0.656, added: "We just had no idea and no expectation that that's what we could do because we genuinely didn't think it was possible.
"In the most realistic way, we had horses that had never done it and we've not been against anybody else. The Dutch are so strong and so established and secure as horses, we're not!"

Natasha Baker scored 76.618 on Keystone Dawn Chorus
Pearson and Baker, gold and silver medallists in grade II and grade III categories respectively, had put the team in a great position on Saturday, with the Netherlands their closest rivals.
That left Wells with huge pressure and it was not helped when her horse Don Cara started playing up just before her run.
Suddenly any thoughts of a gold medal disappeared and it was just about surviving the course.
Wells said: "I'm so relieved to have survived, stayed on, started the test and finished the test!
"It was completely out of the blue – he warmed up amazingly in the other arena and felt awesome but for some reason when I came in here [ten-minute box], he just kept spinning. And he doesn't spin, he's not that sort of horse.
"From then, the team score went out of my head and I just thought 'I've got to complete the test' because if I didn't we wouldn't have any team score and no chance of a medal."
I didn't enjoy a single second – that was stressful!"
For Baker, now a six-time Paralympic champion, the lack of expectation on the team actually benefitted them this time around.
She added: "Every championship, every Paralympics, we've gone in having that expectation and having that pressure on our shoulders.
"But we were chatting the other day and it's been so relaxed and being able to enjoy it - it's just been the most incredible experience and I think that's why we've all cried so much! We just didn't expect this in a million years."
Join the ParalympicsGB movement
Join
The ParalympicsGB movement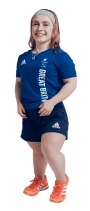 We may include relevant updates from our trusted partners, but will never sell your data on. We take your privacy seriously and you can opt out at any time Privacy Policy