Cockroft relishing Adenegan rivalry after getting her mojo back
Wheelchair racing superstar Hannah Cockroft is not afraid to admit she did a lot of soul-searching last year.
Despite being a five-time Paralympic gold medallist, the 26-year-old found herself struggling with motivation and suffered her first-ever defeat at a major event – taking silver behind compatriot Kare Adenegan in the T34 100m at the World Para Athletics European Championships in Berlin.
Her thoughts had begun to turn to life after athletics, realising that the punishing schedule required of an elite athlete had left her unprepared for what comes next.
With the help of her career adviser, she decided to put her busy training programme on hold to take a crash course in TV presenting, which resulted in her getting a job on BBC's Countryfile.
But having satisfied her craving to pursue other ventures, Cockroft has now got the fire back in her belly to rise to the summit once again and add to her glittering medal collection at Tokyo 2020.
"I'm feeling really good, I feel like I'm pushing really well and my motivation is definitely higher than ever this year as last season obviously wasn't my most successful," she said.
"But at the same time, I was distracted and trying to think about other things in life and that's what woke me up and made me realise that this is what I want to do.

Cockroft at the Muller Anniversary Games
"I made a lot of changes in training and I'm feeling great. The season will start at the end of May and I'm looking forward to that and seeing what I can do. I feel this could be a really good year.
"You have those dark days where you think, 'That's it, I can't do this anymore', but Tokyo 2020 has always been my main goal as Rio 2016 was originally the target to be my first Games – but I was ahead of schedule with London.
"To have Tokyo as my third Paralympic Games would be fantastic and I don't want to make any promises beyond that as I don't really know when I want to retire.
"I want to know that when I do decide to hang up my gloves, I've got something there ready and waiting for me and I'm not going to be hanging around wondering what's next.
"Having won five Paralympic gold medals, it's a very lucky few – probably only one percent – that actually make a living off their athletics career for the rest of their lives.
"So you have to think outside of that bubble at some point, especially for someone like me who is potentially coming to the end of their career after Tokyo."
Adenegan shattered Cockroft's T34 100m world record in the process of inflicting just a second career defeat on the ten-time world champion at the Anniversary Games last July.
You get to a point where if people aren't watching you, you're not really doing your job. We're entertainers, we want people to come and see what we're doing.
She repeated the feat a month later to win gold at the World Para Athletics European Championships before Cockroft avenged that loss over 800m.
Their battle for supremacy looks set to continue at the World Para Athletics Championships in Dubai in November – and Cockroft is relishing the challenge from her 18-year-old British teammate.
"That rivalry [with Kare] really, really helped me," Cockroft continued. "It was a rivalry that I'd never had before and a level of competition that I'd never really experienced.
"It was just getting to a point where I was lining up on the start line and everyone was thinking, 'Oh well Hannah's there, she's going to win and this race is not really worth watching'.
"You get to a point where if people aren't watching you, you're not really doing your job. We're entertainers, we want people to come and see what we're doing.
"Kare sort of brought that interest back and she brought it back for me as well, she has made me really push myself to see what I can really do and that's the exciting thing.
Hannah Cockroft and Kare Adenegan at Rio 2016
"I've never really had that motivation, that outside motivation, from anything but myself to keep pushing so it's exciting now that I have someone to always race. Let's see what I can do."
And with Tokyo 2020 on the horizon, Cockroft hopes the complete overhaul of her approach to wheelchair racing will pay dividends as attempts to retain her sprint crown.
"Small margins is always what you're looking at but to be honest this year, I'm not looking at marginal I'm looking at the big changes I can make," she added.
"I've always had the mindset of, if it's not broke, then why bother fixing it, but actually there were a lot of parts of my performance that were broken.
"Now we've had the time and the awakening that they need fixing and need fixing quickly. We're 18 months away from the next Paralympics.
"This season is going to be really different as our World Championships are in November in Dubai, so it's going to be a really long season and it's just about playing it clever.
"Beyond that, the goal is always two golds at Tokyo, if you head to a Paralympics wanting anything less then it's kind of pointless being there so the goal is always to win."
Joint the ParalympicsGB movement
Join
The ParalympicsGB movement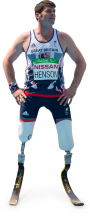 We may include relevant updates from our trusted partners, but will never sell your data on. We take your privacy seriously and you can opt out at any time Privacy Policy