Baker has found perfect partner ahead of World Equestrian Games
It takes time and effort to form a gold medal-winning partnership, so opponents should beware when Natasha Baker claims to have found something special after just seven months.
The 28-year-old para equestrian rider won double gold at London 2012 before standing atop the podium three times in Rio four years later.
Baker knows all about success at the top level then but heads into this month's World Equestrian Games with a new horse in Mount St John Diva Dannebrog.
It's a partnership that's still very young, just seven months, but Baker is confident it's one that will continue to blossom over the coming months.
"It was love at first ride, I rode her, and I just knew she was perfect from the moment I sat on her. It takes time to build that relationship, but we just clicked," she explained.
She's very clever and wants to give 110 per cent every day, every training session with her she tries her heart out and wants to do her best for me.
"Having her is amazing she has that wow factor that judges seem to love, I loved riding her and she seems to love riding with me.
"The horse (Cabral) I took to London 2012, it took us a year and seven months to get on a team and he won 11 gold medals with me.
"She (Mount St John) is different to him and I am still learning every day we have a good foundation we can build on that as the year progresses.
"You have such a strong relationship teaching them new things and progressing with them seeing how far you have come and making things that are not good better in every way."
The World Equestrian Games will run from September 11 to 23 in Tryon, North Carolina and Baker heads to America as defending champion in the team para-dressage.
The Paralympic champion also won silver in the individual para-dressage grade II four years ago so will have plenty of eyes on her when the competition commences.

Natasha Baker onboard Cabral during the Individual Championship Test - Grade II Final at Rio 2016
But Baker is confident that the early morning training sessions, she is often at the yard by 8am, will pay dividends at the World Equestrian Games and in Toyko 2020.
"I am terrible in the morning, I set ten alarms to get out of bed but when I get to a show I wake up much better it must be the adrenaline," she added.
"I prefer riding early in the morning that's my ideal time I start the day well it's takes me a while but all I need a cup of tea. I'm ready to take on the world then.
"When you're standing on the podium with gold medal around your neck the blood, sweat and tears and the sacrifices like early mornings and not going out with friends are 100 per cent worthwhile.
"The owners are incredibly supportive, they really pleased and proud of our progress so far, I would love to take her to Tokyo and come back with a gold medal that would be a dream come true."
Joint the ParalympicsGB movement
Join
The ParalympicsGB movement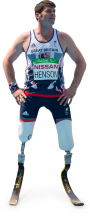 We may include relevant updates from our trusted partners, but will never sell your data on. We take your privacy seriously and you can opt out at any time Privacy Policy