Andrew Houghton: Tokyo is the reason I am here
When Andrew Houghton missed out on selection for his home Paralympics in 2012, the dream of reaching Tokyo 2020 could hardly have seemed more distant.
But after a four-year break the 37-year-old is heading to a second World Rowing Championships this month and he has his eyes firmly focussed on reaching Japan.
If he makes it, it will be an extraordinary story. But Houghton only wants to be there if he can compete to win.
Securing a medal at the World Championships is a good place to start and the Maidenhead Rowing Club athlete is on a mission after finishing fourth a year ago in the PR1 single sculls 2000m.
"I am in a bit of a different place this time compared to last time," said Houghton.
"Last time I was kind of thrown into it and it all happened pretty quickly because I didn't even have a full season training.
"I started in February and by September I was on the World Championship start line. This year I have come into it with a full season and I have that last performance to build on as well.
Expectations are higher, so the pressure is a bit higher. I am looking forward to going out there and seeing how I measure up to the other guys.
"This year I have got to try and kick on. I haven't got the excuse anymore because I have been back into it now for nearly two seasons.
"I am putting more pressure on myself I suppose, to now go out there and make that next step.
"Fourth last time was good, this time if I get fourth I might be a little disappointed. I am really gunning for that third place."
Having to cope with the disappointment of missing the London Paralympics, the Newbury-based rower quit the sport and tried his hand at canoeing.
However, he returned after a four-year absence in one last throw of the dice to achieve his Paralympic dream.
With a more suitable 2000m distance added to the programme, all is set up for Houghton to finally achieve his destiny.
Tokyo is the reason that I am here.
"I don't think that I would have come back to rowing if I didn't have that on my mind. To be honest once Tokyo is done I already know that that's it.
"I am not going to be carrying on rowing after Tokyo.
"Each year I want to be getting a bit quicker. Last year was a baseline and every year I want to be getting quicker. By Tokyo I want to be able to challenge and get on that podium.
"I am the kind of person that says I want to get to Tokyo and I have a couple of years to get there. Knowing that I am finishing after Tokyo is a motivation for me."
Outside of rowing, Houghton's passion is motorcycle racing – the sport that led to Houghton suffering a severe spinal cord injury in a motocross accident 13 years ago.

Houghton took a four-year break from the sport after missing London 2012.
But after rediscovering his love for motorcycling through the support of charity The Bike Experience, Houghton spends his spare time road racing against able-bodied teams in the British Motorcycle Racing Club.
Despite the potential risks that it brings, he admits that if it wasn't for motorcycling, he wouldn't be able to maintain his focus on rowing.
"You hear a lot about mental health at the moment. For me that's exactly how I pitch it to my rowing coaches," he said.
"I have always been around bikes and I think that if someone told me you can't do it because it will affect your rowing, then I think mentally I would find it very difficult to keep training and be committed to the rowing.
"The way I look at it is if I go racing, it gets out of my system and I am ready to come back and focus on the rowing.
"I have always got on my mind when is the next time I can ride my bike and that's what gets me through."
Joint the ParalympicsGB movement
Join
The ParalympicsGB movement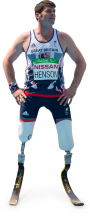 We may include relevant updates from our trusted partners, but will never sell your data on. We take your privacy seriously and you can opt out at any time Privacy Policy