Aaron Phipps ready to climb another mountain towards Tokyo
Aaron Phipps relishes a challenge.
Five years ago he climbed Mount Kilimanjaro - Africa's highest peak - a gruelling test that he conquered, on his hands and knees, in five days.
Now he's ready for his next contest: lining up as part of the ParalympicsGB wheelchair rugby squad at the rescheduled Tokyo 2020 Paralympic Games this summer.

Phipps in action at London 2012
"There is probably not a day that goes by when I don't think about the Games and what we could achieve," admits Phipps, who was part of the ParalympicsGB team that finished fifth at London 2012.
"We could go all the way and get a gold medal – it's so incredibly close among the top teams - Great Britain, Japan, the USA and Australia. We are definitely going in the right direction, which is testament to the hard work the coaches and players have been putting in.
"It's difficult to put into words how big it would be to be the first European wheelchair rugby team to medal at the Games. For us who have been on this journey it would be massive."
After London 2012, Phipps took a break from wheelchair rugby to focus on his young family. He returned to the sport in 2017, having decided it was "just the right time."
"For me it's all about choices," explains the 38-year-old. "You can sit in a comfy bubble or you can take opportunities that come at you and try your best - and that's what I strive for. I'm competitive and I really wanted to win a medal too."

Phipps (centre) takes a hit during training
The last 15 months have provided a new set of challenges too, as the COVID pandemic wreaked havoc at home and abroad.
"People have been through horrendous experiences, but in sporting terms it was that feeling of getting the rug pulled out from underneath you," says Phipps. "It took me back to when I was first poorly when I was 15 - things that you have no control over.
"I went from having access to world class facilities and training and suddenly I'm at home, with some weights in my garden, trying to teach my girls English and maths. It took me a while to get my head round."
Phipps believes his constant desire to set himself targets stems from what happened to him when was a teenager. He contracted meningitis and had to have both legs amputated below the knee.
"It was the worst and best thing that could have happened in one fell swoop. The problem is, I can't switch it off either - I never feel settled, I don't think there will ever be a day when I'm not doing some crazy challenge or pushing myself to the limit."
So far, preparing and training for Tokyo 2020 is living up to his expectations.
"Everyone across the squad is incredibly driven and competitive. It's great because we all have different skill sets and personalities; when we come together we can achieve so much more. That's what makes it so special.
"It really is keeping me busy and on my toes – pun intended. Life gets interesting outside your comfort zone. The Games are an amazing, unbelievable experience and it's such an honour to compete on that stage."
Join the ParalympicsGB movement
Join
The ParalympicsGB movement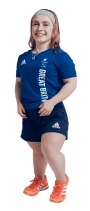 We may include relevant updates from our trusted partners, but will never sell your data on. We take your privacy seriously and you can opt out at any time Privacy Policy