Neil Fachie MBE
Athlete Information
Region

Aberdeen

Date of Birth

12/03/1984

Classification

Tandem B at Rio
Athlete main content
After a successful career in athletics which culminated in selection for the Beijing Paralympic Games, Neil decided to make the switch to para-cycling and joined the squad in April 2009.
The switch has proved to be an incredibly successful one with Neil winning a host of Paralympic and World Championships medals.
His first taste of gold was at a home Track World Championships in Manchester in 2009 where he won the tandem B sprint and kilo titles piloted by Barney Storey. He repeated this feat in 2011 in Montichiari, this time alongside Craig Maclean.
At the final major event before London 2012 he won a World Championship silver in the tandem B kilo, teaming up with Barney Storey, and it was this partnership that would be selected for London 2012.
At the Games Neil and Barney won gold in the tandem B kilo and came second in the tandem B sprint against team-mates Anthony Kappes and Craig Maclean.
Following his success at London Neil was partnered up with a new pilot, Pete Mitchell, and the pair have enjoyed incredible success winning kilo and sprint gold for three successive years.
At the World Championships in 2016 Neil won gold in the sprint and kilo and then claimed a silver at the Rio Paralympic Games.
Neii arrived at Rio 2016 concentrating on the tandem time trial event, the sprint competition having been removed from the Paralympic programme.
He narrowly missed out on gold by less than half a second to Dutch rider Tristan Bangma, adding Paralympic silver to his impressive collection.
In 2017, Neil teamed up with Craig Maclean once again for the UCI Para-cycling Track World Championships in Los Angeles. The pair won two silver medals, in the kilo and the sprint.
2018 saw him line up alongside a new partner once more as he teamed up with pilot Matt Rotherham. The move paid dividends, with the duo winning two world titles at the UCI Para-cycling Track World Championships in Rio de Janeiro - claiming gold in both the 1km time trial and the sprint.
Competing for Scotland the duo won two gold medals at the 2018 Commonwealth Games in Australia.
They won time trial gold on the opening day of competition, setting a new Games record of 1:00.065 to beat Wales' James Ball and Pete Mitchell before claiming sprint gold against the same pair - this time setting a new world record in qualification of 9.658 in the flying 200m.
Neil also has a Physics degree from Aberdeen University.
Rio 2016 Paralympic Games
Tandem B kilo (piloted by Pete Mitchell): Silver
London 2012 Paralympic Games
Tandem B kilo (piloted by Barney Storey): Gold
Tandem B sprint (piloted by Barney Storey): Silver
2018 UCI Para-cycling Track World Championships, Rio de Janeiro (Brazil)
Tandem B sprint (piloted by Matt Rotherham): Gold
Tandem B kilo (piloted by Matt Rotherham): Gold
2017 UCI Para cycling Track World Championships, Los Angeles, USA
Tandem B sprint (piloted by Craig Maclean): Silver
Tandem B kilo (piloted by Craig Maclean): Silver
2016 UCI Para cycling Track World Championships, Montichiari, Italy
Tandem B sprint (piloted by Pete Mitchell): Gold
Tandem B kilo (piloted by Pete Mitchell): Gold
2015 UCI Para cycling Track World Championships, Apeldoorn, Netherlands
Tandem B sprint (piloted by Pete Mitchell): Gold
Tandem B kilo (piloted by Pete Mitchell): Gold
2014 UCI Para cycling Track World Championships, Aguascalientes, Mexico
Tandem B sprint (piloted by Pete Mitchell): Gold
Tandem B kilo (piloted by Pete Mitchell): Gold
2012 UCI Para cycling Track World Championships, Los Angeles, USA
2011 UCI Para cycling Track World Championships, Montichiari, Italy
Tandem B kilo: Gold
Tandem B sprint: Gold
2009 UCI Para cycling Track World Championships, Manchester, UK
Tandem B kilo: Gold
Tandem B sprint: Gold
2018 Commonwealth Games, Gold Coast (Australia)
Tandem B kilo: Gold
Tandem B sprint: Gold
2014 Commonwealth Games, Glasgow UK
Tandem B kilo: Gold
Tandem B sprint: Gold
Joint the ParalympicsGB movement
Join
The ParalympicsGB movement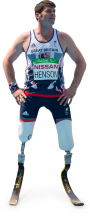 We may include relevant updates from our trusted partners, but will never sell your data on. We take your privacy seriously and you can opt out at any time Privacy Policy