David Smith MBE
Athlete Information
Region

Eastleigh, Hampshire

Date of Birth

02/03/1989

Classification

BC1
Athlete main content
David grew up in Eastleigh and attended Cedar School in Southampton. He got his first taste of the sport aged six when he first tried boccia as part of a multi-sport event at Stoke Mandeville and at a young age he also enjoyed athletics, wheelchair football and other disability sports.
David soon found his strength in boccia. Because he threw a cricket ball sideways in another event it was suggested that this should be his way of throwing, but he began working on his technique and when he moved to Treloar secondary school he thrived with the help of regular coaching. In 2003 he became the youngest ever British Boccia Champion, beating the-then GB captain in competition.
Having established himself as the top BC1 player in the UK, David immediately joined the national team, making his major international debut in 2005 when he represented England at the European Championships. Having medalled consistently within the team throughout that time, in 2007 David had his first major international individual medal by winning gold in the World Cup. The team also achieved its first gold, meaning David scooped the first major double gold by any British BC1 player.
At Beijing 2008, David entered as world number 2 but had his first negative result finishing 13th in individual competition. However, he recovered to help the BC1/BC2 team string some impressive performances together against China and Portugal to get the gold medal.
Post Beijing, David left Treloar College and moved away to Swansea University to study Aerospace Engineering. In the process David decided to focus more time on boccia, putting on hold his interests for athletics, drumming, wheelchair hockey and wheelchair football. David first became world number 1 in 2009 winning gold at the European championships. The BC1/BC2 team got silver, narrow losing a tie-break to their Portuguese rivals.
In 2012, David secured an individual ranking of 2 as he approached the London 2012 Paralympics. David got into the final in the individual event, losing an emotional match to Thailand's Pattaya Tadtong – a long-time rival. The team secured a gutsy bronze against Portugal having been heavily beaten in semi-final by Thailand
David learned from London and regained the world number one ranking in 2013 by winning the European Championships. The team had a major change after London so did really well getting Gold.
In 2014 David had to make adjustments to his set of balls to cope with new rule changes and a markedly improved BC1 field of players. Suffering defeats at each of the new World open events kept giving David new areas to improve and new rivals to look out for. Finally, David graduated from university with his degree and was able to solely focus on boccia. In September, David went to World Championships in Beijing was involved in a battle for the world number one ranking with Daniel Perez from Holland and he beat his new rival in the semi-finals, and then played the game of his life to beat Pattaya's teammate and rival Witsanu Huadpradit 8-2 in the final. In the team event, it was a really tough tournament, losing to Brazil in the semi-final, but the players eventually achieved bronze against Portugal.
In March 2016, David went to Beijing to defend his individual world title. He battled hard to knock Daniel Perez out in the last 16, then went on a great run to the semi-final before losing to Pattaya in a very uneven game. David recovered to win the bronze medal match and secure his 3rd seed status for Rio. David also won gold at world open beating Daniel again in the final and showed much improved form. The team also gained silver, narrowly losing to rivals Japan in a tie-break.
At the Rio 2016 Paralympic Games David sported a memorable blue mohawk hairstyle as he improved on his individual performance at London 2012 and secured the gold medal with an emphatic 5-0 victory over Netherland's Daniel Perez. Victory meant he became the joint most successful British Boccia player in history.
David currently holds the 'triple crown' of major tournament following his win at the 2018 World Championships in Liverpool and his 2019 gold medal at the European Championships>
Rio 2016 Paralympic Games
London 2012 Paralympic Games
Individual BC1: Silver
BC1/BC2 Team: Bronze
Beijing 2008 Paralympic Games
2019 BISFed European Championships, Portugal
Individual BC1: Gold
BC1/BC2 Team: Bronze
2018 BISFed World Championships, Liverpool, UK
Individual BC1: Gold
2017 BISFed European Championships, Portugal
2016 BISFed Boccia Individual World Championships, Beijing, China
2015 BISFed Boccia European Championships Team and Pairs, Surrey, UK
2014 BESFed Boccia World Championships, Beijing, China
2013 BISFed European Championships Guimaraes, Portugal
Individual BC1: Gold
BC1/BC2 Team: Bronze
Joint the ParalympicsGB movement
Join
The ParalympicsGB movement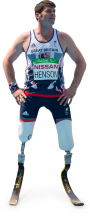 We may include relevant updates from our trusted partners, but will never sell your data on. We take your privacy seriously and you can opt out at any time Privacy Policy