Dame Sarah Storey DBE
Athlete Information
Region

Manchester

Date of Birth

26/10/1977

Classification

C5 at Rio
Athlete main content
Sarah Storey's fourteen Paralympic gold medals make her the most successful female British Paralympian of all time.
Sarah began her Paralympic career as a swimmer, competing in four games: Barcelona 1992, Atlanta 1996, Sydney 2000 and Athens 2004, picking up a combined total of five gold, eight silver and three bronze medals.
Following Athens Sarah decided to make the switch to para-cycling and has enjoyed incredible success as she not only dominated para-cycling events but has also enjoyed significant success in non-disabled events.
After picking up two silver medals at her first Road World Championships in 2006, Sarah never looked back and won two gold medals at Beijing 2008, winning the C5 individual pursuit on the track and the C5 time-trial on the road.
Between Beijing and London Sarah truly established herself as the best para-cyclist in the world winning an astonishing 12 world titles across the road and the track.
At the London 2012 Paralympic Games, Sarah excelled in both track and road events, winning four gold medals.
She won ParalympicsGB's first gold medal at London 2012 with victory in the C5 individual pursuit, after setting the 72nd world record of her career in qualifying.
In the C4-5 500m time-trial she topped the podium again, beating American Jennifer Schuble by more than a second. On the same day of competition, her husband Barney, a tandem pilot, took gold in the tandem B 1km time-trial with Neil Fachie.
On the first day of road events at Brands Hatch, Sarah won gold in the C5 individual time-trial, beating her nearest rival by 94 seconds.
In her last event, the C4-5 road race, Sarah caught the competitors in the men's C1-3 event, completing the course at an average speed of 38kph.
After London, Sarah missed the 2013 season and gave birth to her first daughter, Louisa. She returned to international competition in 2014 and added 12 World Championship medals to her collection in the run-up to Rio 2016.
At Rio 2016 she claimed a hat-trick of gold medals with victory in the individual pursuit, road race and time trial.
Rio 2016 Paralympic Games
Individual Pursuit: Gold
Time Trial: Gold
Road Race: Gold
London 2012 Paralympic Games
C5 Individual Pursuit: Gold
C4-5 500m Time Trial: Gold
C4-5 Road Race: Gold
C5 individual time trial (road): Gold
Beijing 2008 Paralympic Games
LC1-2/CP4 individual pursuit: Gold
LC1/LC2/CP4 time trial: Gold
Athens 2004 Paralympic Games (Swimming)
100m freestyle S10: Bronze
100m breaststroke SB9: Silver
200m individual medley SM10: Silver
Sydney 2000 Paralympic Games (Swimming)
100m backstroke S10: Silver
4x100m medley relay SM10: Silver
Atlanta 1996 Paralympic Games (Swimming)
200m individual medley SM10: Gold
100m breaststroke SB10: Gold
100m backstroke S10: Gold
400m freestyle S10: Silver
100m freestyle S10: Bronze
Barcelona 1992 Paralympic Games (Swimming)
100m backstroke S10: Gold
200m individual medley SM10: Gold
400m freestyle S10: Silver
4x100m freestyle relay S7-10: Silver
100m freestyle S10: Bronze
4x100m medley relay S7-10: Silver
2016 UCI Para cycling Track World Championships, Montichiari, Italy
Individual Pursuit: Gold
500m time trial: Silver
Scratch race: Silver
2015 UCI Para cycling Track World Championships, Apeldoorn, Netherlands
500m time trial: Gold
Individual Pursuit: Gold
2015 UCI Para cycling Road World Championships, Nottwil, Switzerland
Time trial: Gold
Road Race: Gold
2014 UCI Para cycling Road World Championships, Greenville, USA
Time trial: Gold
Road race: Gold
2014 UCI Para cycling Track World Championships, Aguascalientes, Mexico
Individual pursuit: Gold
Scratch race: Gold
500m Time Trial: Bronze
2012 UCI Para cycling Track World Championships, Los Angeles, USA
500m Time trial: Gold
Individual pursuit: Gold
Team Sprint: Silver
2011 UCI Para cycling Road World Championships, Roskilde, Denmark
Time Trial: Gold
Road Race: Gold
2011 UCI Para cycling Track World Championships, Montichiari, Italy
Individual Pursuit: Gold
500m Time Trial: Gold
2010 UCI Para cycling Road World Championships, Baie-Comeau, Canada
Road race: Gold
Time trial: Gold
2009 UCI Para cycling Track World Championships, Manchester, UK
Individual Pursuit: Gold
Time Trial: Gold
2009 UCI Para cycling Road World Championships, Bogogno, Italy
Road Race: Gold
Time trial: Gold
2007 UCI Para cycling Track World Championships, Bordeaux, France
Individual Pursuit: Gold
500m Time Trial: Bronze
2006 UCI Para cycling Road World Championships, Aigle, Switzerland
Road Race: Silver
Time Trial: Silver
2005 Para cycling European Championships, Alkmaar, Denmark
Individual Pursuit: Gold
500m Time Trial: Gold
Road Race: Gold
Time Trial: Silver
2002 IPC World Swimming Championships, Mar del Plata, Argentina
S10 50m Freestyle: Bronze
S10 400m Freestyle: Gold
SM10 Individual Medley: Gold
S10 100m Freestyle: Gold
1998 IPC World Swimming Championships, Christchurch, New Zealand
4x100m Freestyle: Bronze
S10 400m Freestyle: Bronze
SM10 200m Individual Medley: Bronze
4x100m Medley: Silver
S10 100m Backstroke: Silver
1994 IPC World Swimming Championships, Malta
S10 400m Freestyle relay: Gold
SM10 200m Individual medley: Silver
S10 100m Backstroke: Silver
4x100m Freestyle relay: Gold
Joint the ParalympicsGB movement
Join
The ParalympicsGB movement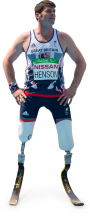 We may include relevant updates from our trusted partners, but will never sell your data on. We take your privacy seriously and you can opt out at any time Privacy Policy