Wiggs keen to help drive positive change in women's sports coverage
Paralympic champion. World champion. World record holder. Emma Wiggs is a woman who has achieved success at the highest levels in sport.
But she is far from unique.
ParalympicsGB's female athletes are trailblazers in their sports and have enjoyed huge success on the world stage.
In fact, at Rio 2016, six athletes won a hattrick of gold medals (no GB male won more than two) and in total female athletes won medals in 11 sports.
These successes are not limited to para sport but echoed across the sporting landscape – yet women's sport still fights to get equal coverage to men's.
And, while Wiggs believes things are better now than they have ever been, she continues to be driven to encourage more positive coverage for women's sport.
"There is still an assumption in some areas that women are weaker than men or don't have much to offer," said Wiggs.
"Charlotte Henshaw and I do everything we can do snub that stereotype. We're not just there to have a go.
"We go out there to smash each other, smash the rest of the world, and make sure we're pushing the sport forward.
"Women's success is undervalued. There is tangible success and it's not celebrated in the same way.
"Sporting success and people achieving incredible things is just that, it's people achieving incredible things. We don't live in a rosy world but the more we promote women's sport the better.
"And that's where the media and the athletes are so important and hopefully young girls see the amazing female athletes and think 'yeah, I can do that' and they see these things as an option."

Having powerful female role models has been important for Wiggs with her mother playing a major role in her life and veteran para canoeist Jeanette Chippington also a constant inspiration.
Wiggs hopes continued success and exposure will lead to a culture shift and young girls and women will always be able to see a pathway to success in any field – though it's a message of true equality that Wiggs is keen to stress.
"I'm very fortunate to have lots of inspiring women around me. But at the same time, I don't think women just have to inspire women," she added.
"Why can't we all just be inspired by each other?
"But I am lucky. Within my sport Jeanette is a huge inspiration. She has done so many Paralympic Games. She has done all of that with a young family and she has gone through her whole career bringing up two children and being an incredible athlete as well.
"To be able to room with someone like that and hang out with someone like that is incredibly inspiring.
"And then someone like Charlotte who has the same drive and mindset as me. We are so competitive that we can push each other to dominate the world for a good few years and that's inspiring too.
"And, on a personal level it always comes back to my family, my Mum is a huge, huge influence on me.
"She brought the three of us up from about the age of ten and she is an incredibly powerful woman and one that would never have let us believe in any stereotype that make us think we couldn't do something."
Joint the ParalympicsGB movement
Join
The ParalympicsGB movement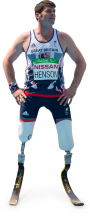 We may include relevant updates from our trusted partners, but will never sell your data on. We take your privacy seriously and you can opt out at any time Privacy Policy