Steve and Michael's top tips for fundraising success
Fundraising is a great way to support causes that mean a lot to you. Whether you've signed up to a challenge event or are organising your own event, we have gathered some top tips from some of ParalympicsGB's most successful fundraisers…
Steve and Michael, two employees from ParalympicsGB partner Mondeléz, have together raised thousands in support of ParalympicsGB. Each year they run a sponsored static cycle at their Bourneville base. We spoke to the pair to see how they make this event a success.
Cycling super fundraisers Steve and Michael in Halloween mode
What are your initial steps in organising the event?
After deciding on the date, we liaise with our colleagues at Cadbury World to make sure we provide them with all the necessary information to meet the health and safety requirements. Once this is organised we are then able to focus on raising money!
How do you get people to support the event?
We advertise the event to our colleagues and friends using email and social media. We are also very lucky that we can rely on the general passing traffic from being at Cadbury World. Busy areas such as the office canteen or reception would also work well as lots of people will be passing by.
One of the best ways of getting people to donate is to entice them with the chance of winning a prize. We send letters to various companies or shops in the local area to ask if they can send us a raffle prize. A competition is a great way of enhancing fundraising, no matter what event you are putting on.
What other events have you organised?
Two years ago, we organised a music event with a live band. We were able to arrange free venue space with a local restaurant which meant that all the funds raised through ticket sales could then be donated.
What is your top tip for new fundraisers?
Believe in what you're doing and spread the message far and wide! We have never found it difficult to ask people to fund raise for ParalympicsGB as people love the team and want to support.
Also make sure to inform the fundraising team at the ParalympicsGB about your plans. The team can help give you advice and will always look to support you, especially on social media which can really boost your promotion.
For more information on hosting a fundraising event contact Rachael or Lucy on fundraising@paralympics.org.uk
Joint the ParalympicsGB movement
Join
The ParalympicsGB movement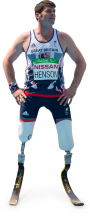 We may include relevant updates from our trusted partners, but will never sell your data on. We take your privacy seriously and you can opt out at any time Privacy Policy