The rapid rise of Reece Dunn
He may be a relative newcomer to the GB Para swimming set-up, but Reece Dunn has already been making waves.
A pair of gold medals – both sealed in record-breaking time – at the recent World Para Swimming World Series finale in Berlin capped off his first international meet in spectacular style.
And the timing could not be better for the S14 swimmer, with the World Para Swimming Championships just around the corner in London, and next year's Tokyo Paralympics looming large.
It's unsurprising, therefore, that the 23-year-old hasn't yet had the chance to step back and take it all in.
"Coming into Para, my first meet was December in Manchester and that went really well," he explained.
"Then, British champs in April being my second one, which was a bit of a whirlwind.
"In April I had the international testing done, to get the international classification, so I wasn't sure how that was going to go. Once I passed it I got invited to the Berlin meet.
"Then being selected for the camp in Italy and racing in Berlin as my first GB appearance, which was awesome, but it came pretty quickly.
"I didn't have much time to think about it, but it was very enjoyable. I guess I've been in swimming for a while, so have learned how to adapt to things that have been put in front of me, so it was probably a good thing!"
And for Dunn, his story in the pool is much like that of any other: a precocious talent harnessed by his local club, with early-morning rises the norm as his talents were honed.
But that didn't concern the aspiring swimmer one bit, who even dallied with diving for a time – although that never quite stuck.
I've been in swimming for a while, so have learned how to adapt to things that have been put in front of me.
"Mum and dad first got me into learning to swim as a life skill and then they put me into a club called Devonport Royal," he continued.
"They talent-spotted me, I suppose and developed me into a swimmer. From age nine you can start competing competitively, so I went from there.
"I absolutely loved it. I was doing diving at the same time as well, doing it for half-an-hour, 45 minutes and then going to a session.
"I wasn't a great diver and didn't enjoy it that much. I'm the kind of person where if I'm not very good at something I don't enjoy it. Swimming I enjoyed a lot more; diving I quickly got bored of."
From there, it was onwards and upwards for Dunn, who had turned his attentions solely towards swimming as diving fell by the wayside.
It took several years, however, before the Plymouth native joined the Para set-up, a move that has since seen him leap to success after success.
"I got diagnosed with autism at 13 and never really thought about getting into Para until I was about 18 or 19, but never knew how to apply," he said.
"Two years ago, we had a new coach and he was looking into it for me – how to get a test done and everything like that.
"He found the pathway on how to apply and sent me all the details and then from there they helped sort out what I had to do.
"Swimming with non-disabled swimmers has been a test, because some of them can be a lot faster than me, but I don't really see that as a negative thing, because it has allowed me to adapt to them and be able to race as fast as them."
All of which has stood him in the best possible stead as he makes a name for himself on the international stage.
And with the World Championships newly-appointed to London later this year, Dunn is hitting form at the perfect time.
"I'm very excited for the worlds in September," he admitted.
I don't tend to look really far ahead; I just think of what's in front of me and take it as it comes.
"I work full-time but being picked for the worlds team has allowed me to go part-time at work so that I can be fresh.
"It makes it a lot easier with the travel – it's a lot closer, so I don't have to adapt to any time-zones or anything. I think it's the first time it's been in the London pool since the Paralympics, so that'll be amazing.
"I've set personal goals rather than for medals, certain times that I'd like to go. I'd like to improve some times – the 100m fly, I haven't pb'd since 2016, so I'd like to try and get close to that or faster again.
"I'm just trying to keep my head screwed on for worlds now. After that, depending on how well it goes, I'd like to set a goal for next season."
Which is when, of course, the chance to compete at Tokyo 2020 will loom large for Dunn after just seven months with the GB set-up.
But Dunn isn't counting his chickens just yet, taking things one step at-a-time to mitigate against his whirlwind rise.
"It would be amazing," he concluded.
"I've dreamed about it since I was a child. Any sportsperson would dream of making it there. I don't tend to look really far ahead; I just think of what's in front of me and take it as it comes."
Joint the ParalympicsGB movement
Join
The ParalympicsGB movement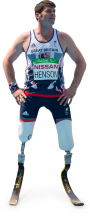 We may include relevant updates from our trusted partners, but will never sell your data on. We take your privacy seriously and you can opt out at any time Privacy Policy