The Crockatts: ParalympicsGB superfamily
From first being inspired by the London 2012 Paralympic Games to becoming friends with Stef Reid and travelling around the world watching as many Para sport events as possible, the Crockatt family and their daughter Sofia are quite simply ParalympicsGB super fans. Here's their story…
How did London 2012 impact on your lives?
London 2012 had a huge impact on our life as a family. Sofia lost her leg at 2 years of age due to Meningococcal Septicaemia, and, as a family we were unsure of what the future held for her.
The Channel 4 "Superhumans" campaign in the run up to 2012, was extraordinary. This was the first time we had seen people with physical challenges being portrayed as true athletes. The term "disabled" did not seem appropriate – these guys were seriously "able".
Sofia connected immediately. Her posters of popstars such as Justin Bieber and Cheryl Cole were ceremoniously torn down and replaced with images of Stef Reid, Richard Whitehead and Jonnie Peacock.
What is your most memorable ParalympicsGB moment?
One of our earliest connections with ParalympicsGB was thanks to the incredible Stefanie Reid. Stef quickly became Sofia's role model from an early age. We tweeted Stef shortly after London 2012, just before Sofia's 8th Birthday – Stef responded with a birthday message which we did not expect. A few weeks later Stef arranged to meet us for a surprise breakfast, with a "star struck" Sofia at "SportsFest" in Guildford. An event organised by ParalympicsGB to open the world of para sport to potential future stars.

Sofia watching in the stands with mum Karen
How far have you travelled to support ParalympicsGB?
Para sport has been an important part of our life since 2012. We have always tried to arrange our holidays to coincide with major Para events, travelling to many countries to see the Para stars in action at World and Euro events - Berlin, Glasgow, London, Swansea and even Doha!
What is Sofia's favourite Paralympic sport?
As a below knee amputee herself, initially, Sofia tended to lean towards the amputee Athletics events that she could relate to – T44/64/42/43, but, having attended so many meets, we have developed a huge respect and love for many other events and disciplines.
In addition, Sofia has an enormous passion for equestrian. Having met the legend that is Sophie Christiansen on several occasions, Sofia has become an accomplished horse rider herself, and equestrian has become her favourite sport.
Sofia also loves handcycling, on her cycle which she has aptly called "Phoenix"!
Were you always a sporty fan family or did the Games influence that?
We were not really sporty before London 2012. The event without doubt ignited a passion within all of us. It made us realise what was possible for people with a disability, and that Sofia could lead a perfectly normal life, stay healthy, take part in sport, and lead an active life.
The other factor that influenced our passion was the people. We have been fortunate to meet many of the ParalympicsGB team and without exception, they are a wonderful group of people. They always seem to have time to chat with fans, take selfies and give advice. All of those we have met are true ambassadors for the Paralympic movement.

Sofia meets Paralympic champion Richard Whitehead during his 40 marathons in 40 days challenge
As a parent, what does it mean to you for Sofia to have a role model like Stef?
Strong, intelligent, talented, articulate, determined – the perfect role model! Since 2012, Stef has been a very important part of Sofia's life. The cliché of "never meet your heroes" could not be farther from the truth.
Stef is Sofia's 'go to' person if she has any problems or difficulties; Stef being an amputee herself is better equipped to advise and guide Sofia. These days, Stef and Sofia now refer to each other as "Leg Sisters".
How do you think the Paralympic movement has changed since London 2012?
It has had its ups and downs. There is always a swell of interest and excitement around major events, such as the London 2012 Paralympic Games and the London 2017 World Para-Athletics Championships. However, in the period between these major events, the momentum has waned a little. Opportunities may have been lost in the past due to "segregated" events, where Para events were either at the end of the day, or, on a separate day altogether. We believe that Para sport is as exciting, if not MORE so than non-disabled sport, and have convinced many friends and family members to enjoy para sport as much as we do.
It has been great to see more recently that, track meetings in particular, are becoming more integrated than before; Para athletics events are more evenly distributed throughout the day, giving mainstream fans the opportunity to experience them. this is something that is essential in order to keep para-sport and para athletes in the public eye.
Grass roots sport for the disabled has without doubt improved, with some dedicated clubs around the country. Access to sport for the disabled is better, but not perfect.
Many of the ParalympicsGB athletes, such as Stef, Jonnie, Richard, Hannah, who were perhaps unknown in the past, have now become household names. It is great to see them on TV in other mainstream shows such as Strictly Come Dancing, Question of Sport, Mastermind etc
The recent "Rising Phoenix" film on Netflix was extraordinary, and will do a great deal to continue to challenge misconceptions whilst further advancing the Paralympic Movement
As a family, we have definitely noticed a change in attitude to Sofia in day to day life. Before London 2012, people would stare at her prosthesis, and there was a definite feeling of "Ah bless! Poor Girl!". These days this is very different, most kids that she meets think her leg is "cool", and, Sofia is more than happy to talk with them and answer questions. Over the last few years, it is very rare for Sofia to go out with her leg covered up. She is proud of her prosthesis.
What makes ParalympicsGB "Impossible to Ignore"?
We need to continue to recognise ParalympicsGB as professional disciplined athletes and not just disabled people! People make assumptions that disability creates limitations however the ParalympicsGB team have proved society wrong in many different ways.
ParalympicsGB is definitely helping to change perceptions of disability, both in the UK and abroad.
​
Follow Stef Reid's journey to Tokyo in the latest episode of our docu-series ParalympicsGB+1
Joint the ParalympicsGB movement
Join
The ParalympicsGB movement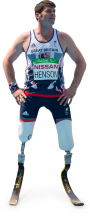 We may include relevant updates from our trusted partners, but will never sell your data on. We take your privacy seriously and you can opt out at any time Privacy Policy