Do I live and breathe wheelchair fencing? I certainly used to dream about it – I've had moments when my Dad's been driving me back from a training session and I would be asleep in the passenger seat. My hand would suddenly fly out as if I'd just done a lunge - and it scared the life out of him!
The 'athlete 24-7' mindset is one I've been adapting to over recent years. I would say I've started to really believe in that mindset, and train in that mindset, as I think that's the only way you can consistently achieve the goals you set out to do.
I've been wheelchair fencing since I was 12 years-old – that's more than half my lifetime – so I suppose it's no surprise how much of a part of my life it has become. It's hard to imagine life without it - and I wouldn't be sure what I would do if I wasn't fencing.
​

Dimitri in action at Rio 2016
As a youngster, I tried wheelchair basketball, tennis and skiing – one of my first sporting idols was Ade Adepitan. I was at a wheelchair basketball session and he was there: I knew then that I wanted to be as good at something as he was at basketball.
I was always a bit of a nerdy kid that liked Pirates of the Caribbean, Lord of the Rings, so the idea of doing something with swords was also pretty cool! Once I'd started, the other aspects – professionalism, techniques, tactics - really appealed, and that's when I got more invested in learning too.
I first began at school - the individuality of wheelchair fencing really attracted me to the sport. I went to St Benedict's in London, and as the only wheelchair fencer the other students who fenced would sit down and fence against me. It was a learning process for them too – understanding the nuances of the chair and how to move to create the same tactical situations as you would if you were standing up. They had to adapt to my game, which I suppose was rather unusual.
I was lucky in that I had such wonderfully supportive staff at the school who put the effort in to getting the frame I needed, the fencing chair, and to learn about wheelchair fencing. When they saw I was committed, enjoying it and taking it seriously they encouraged and pushed me, signed me up for my first competition and ultimately enabled me to go on and continue to where I am now.
I went to London 2012 as part of the Paralympic Inspiration Programme - it was incredibly inspiring and I felt very privileged to be a part of that. It was a big preparation for my first games in Rio, being able to see the Village and all the athletes. It was invaluable to me then and still is to my development today. It introduced me to what it was like to be part of ParalympicsGB.
Wheelchair fencing has pushed me to do things that I otherwise wouldn't have done. The amount of discipline and sacrifice and willpower required is something I had to really work on and learn as I went along. Fencing has now given me the discipline and drive to try and be better at whatever I do.
Join the ParalympicsGB movement
Join
The ParalympicsGB movement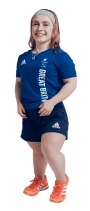 We may include relevant updates from our trusted partners, but will never sell your data on. We take your privacy seriously and you can opt out at any time Privacy Policy