Take on the 2.6 Challenge for ParalympicsGB
Be a home hero and join the nation by taking on The 2.6 Challenge to help save UK charities.
Register your 2.6 Challenge now!
ParalympicsGB, like so many other charities, has been impacted by the Coronavirus and the postponement of the Tokyo 2020 Paralympic Games so, we are inviting you to take part in the The 2.6 Challenge and support the team.
The challenge can be anything you like - as long as it's got the number 2.6 or 26 in it! All you need to do is come up with an activity, donate or fundraise with us and then from Sunday 26 April or whenever is most convenient for you, complete your challenge and nominate someone else.
Whatever challenge you decide to do, just ensure you follow the Government guidelines on exercise and social distancing.
Now it's over to you, choose your challenge and help support the team as they continue to prepare for Tokyo 2020 a year later than planned.
Update: WATCH ParalympicsGB athletes take on their own 2.6 Challenges

Alison Peasgood "swims" in her garden triathlon
Our athletes are joining in on the fun too, with Jack Hunter-Spivey attempting to bounce a ball on alternate sides of his bat for 2.6 minutes and David Smith is going to play Boccia with 26 balls. There are so many fun and creative ideas out there from walking, running or scooting 2.6 miles, juggling for 2.6 minutes, and flipping a pancake 26 times!
By taking on the 2.6 challenge, you are supporting us to continue breaking down barriers for disabled people so we want to say a huge thank you!
We can't wait to see what you get up to so please share photos or videos of your challenge on social media using the hashtag #TwoPointSixChallenge and tag us @paralympicsgb_official on Instagram or @ParalympicsGB on other social media!
Joint the ParalympicsGB movement
Join
The ParalympicsGB movement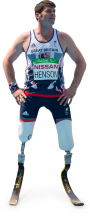 We may include relevant updates from our trusted partners, but will never sell your data on. We take your privacy seriously and you can opt out at any time Privacy Policy