Stop, Drop, Roll Into Your Hammock
Karen phoned me after getting hit by the bus. I was in Glasgow with my parents and she was in Mallorca. "Hi Hannah, I've been hit by a bus and I managed to get to a café and he's pouring alcohol on me". There wasn't much I could respond to that other than "go to hospital Karen" and "autonomic dysreflexia, Karen… you could have broken every bone below your chest and you would get… light tingles".
Karen had been flipped off her handbike as the bus made contact and it hadn't crushed either of them but I didn't need to know this. There is not one way Karen hasn't almost died. Of course the bus missed her. Anyone who knows Karen will know she is just a series of close shaves with sparkly blue eyes attached.
Karen Darke won gold at the Rio Paralympics. We were sharing a room. Maybe it was the Games which bonded us or maybe it was her incredibly naughty behaviour. She phones me regularly, no matter what. She's a professional adventurer so I have received phone calls from a toilet in Patagonia, a fridge in Mexico when she was trying to cool down, a boil-in-the-bag tent in Australia, a hospital in Ethopia after contracting typhoid and cycling 90km anyway.
Karen was the last person I'd expect to be relieved when Spain went into lockdown, no road cycling allowed.

Karen who never stays still, who accidentally spends eight hours riding when she was just going out for an easy spin. For whom freedom is the open road, for whom busses are butterflies and hardship is healing. But of course Karen has also spent long periods in hospital with life-threatening infections and had only just been let out from her last bout of septicaemia.
You know Coronavirus is serious when it grounds Karen Darke.
When I said I was using her for my opening paragraph because I couldn't write about the horrors of the pandemic directly she said "we aren't going through this, we are _growing _through this," and I let out a cackle. She could have been being mystical or she may have been fat shaming all of society for eating cake. Hard to tell with Karen.
I have heaped sand around me and I dunk my head in a different pile every morning... we can learn a lot from the ostrich
People, I've stopped looking. I have heaped sand around me and I dunk my head in a different pile every morning. I always thought it would be irresponsible of me to do this but I now see that it is a noble keep going tactic of the very best kind and we can learn a lot from the ostrich.
Don't get me wrong, the phase I was in before this one had a lot more careful studying of scientific papers. A lot more face-clawing and insomnia. I interviewed some Paralympic officials and wrote an article for iNewspaper. I helped coordinate my local help group, albeit from my bedroom, to organise volunteers who wanted to help the vulnerable.

Add marmateers to the list of keyworkers
I was truly glad when they postponed the Paralympics and shifted us all into the great unknown. Yet, I also cried in that way where you can't hear words and there's a lot of mopping up to do afterwards. I was horrified at the same goal, different year hashtag but that says everything about me and nothing about the people who used it. I will not predict the future for myself, or my own mortality. I have been given license to live in the moment and this release from guilt is a comfort I cling to.
I am slightly disappointed at my own personality because my favourite thing to do is sprint finish all the grannies.
Despite myself I have become obsessed by indoor, virtual bike racing. I am slightly disappointed at my own personality because my favourite thing to do is sprint finish all the grannies. There isn't a Paracycling section and they are the only ones who will take me on. You could say I was still training, I say I am pedalling away the anxiety, very ferociously and joining in with a group Zoom weightlifting session twice a week because being in the presence of Lauren Rowles arm power is a form of worship.
I thank my housemate for giving us a COVID-19 dry run when he got double pneumonia two years ago, collapsing without warning, being taken away. He had to be intubated and put into a coma. The psychosis it gave him took a year to shake off. We didn't need to be told twice, or at all. We beat the government to it.
My goals shift as I go. My family is at the top of the pyramid of priorities, all of whom I phone relentlessly, none of whom I can visit, even though my grandpa just passed away. The one goal I can most tolerate is that I keep my housemate safe. It helps that he is a compulsive baker and that he is mistrustful of all sporting activities. He is 6ft 10inches but his looming presence is offset because he is as feeble as a leaf. He also can't stop buying cheery scarfs. Simply put, he is someone I really want to keep around. He lights up my day despite his selfishly long shadow; we have to be far apart when we sunbathe in the garden.
I blame the films of my childhood. The original Lion King told me to laugh in the face of danger, Madeleine told me I could do anything even in the throes of life threatening appendicitis and Matilda taught me that if I read enough books as a child that it was safe to make drop scones without the presence of an adult and to the soundtrack of Little Bitty Pretty One by Thurston Harris. The last one is not related but it's the only one we should do right now. I hope you are subtly influenced to put on your Spotify and make pancakes today.

I purchased a hammock in 2018, which for someone with cerebral palsy is brave. When I'm in it my bum almost brushes the ground and with repeated, starfish like movements I can flop myself painlessly onto the grass. My one top isolation tip is if you have trees, get a hammock. With trees they are cheap, without trees things get pricier and you won't be surrounded by blossoms and soft green foliage which is the whole point.
From one Paralympian in lockdown to you all, I wish you health and cake and trees and the ability to set the many victories of your future aside for now so you can do what you need to do to live.
Hannah is a Paralympian and writer who competed at the Rio 2016 Paralympics Games in Road Cycling and is writing a series of columns for ParalympicsGB
Joint the ParalympicsGB movement
Join
The ParalympicsGB movement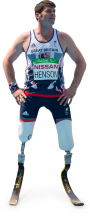 We may include relevant updates from our trusted partners, but will never sell your data on. We take your privacy seriously and you can opt out at any time Privacy Policy