Stewart: I'm close to conquering the world
One slight slip away from beating the world number one, visually impaired judoka Elliot Stewart feels he has cleared a route to the Paralympic rostrum.
Stewart only started competing internationally in August 2017 but has risen to third in the world, sitting pretty with a year to go until the Tokyo Games.
The -90kg star backed up bronze at last year's World Championships with a medal of the same colour at the recent European Championships in Genoa, Italy.
Stewart is convinced he has never been closer to overthrowing world champion Oleksandr Nazarenko and admits to surprising even himself in the speed of his adaptation to the sport.
"I'm quite confident that my method can beat anyone in my weight category," he said.
"That's due to my training and the tactics I've been running. I know that the strategies I use can overcome the best of the best, when I peak for the event.
"I've fought Nazarenko twice now – he's beaten me twice. The first time we went the distance and he beat me fair and square, but at the Europeans it was just my mistake.
"If it wasn't for that error, I think I would have beaten him.
"It gives me a lot of belief to know I've got a chance of beating someone who, let's face it, you'd probably have to beat in a Paralympic final.
"I didn't put too much expectation on myself when I first started on the Paralympic circuit and I've exceeded what I thought I was capable of.
"After how the last two years have gone, I know I've got a good chance of getting to the Paralympics and, if I train right and work hard, of being on the podium."
I strive for that feeling I get when I come off the mat and I know I've put everything I have in me out there
Stewart won his pool convincingly at the European Championships and despite being edged out by Nazarenko in the semi-finals, delivered a beautiful throw for ippon to beat Vladimir Fedin in the bronze medal match.
A quick turnaround from his Paralympic Qualifier block didn't agree with the West Midlands product, who came down with illness in the lead-up to the continental gathering.
Stewart was encouraged by a performance that came after days of struggling with cold and flu symptoms.
"Preparation wasn't great but when I got there, I managed to dig in and get a result that puts me a great place for the Paralympics," he said.
"It was reassuring to know that I wasn't feeling great but still managed to get a positive outcome.
"I didn't have an easy draw, either, I had some difficult fights out there. It's 100 per cent a good sign."
The -90kg star needs to finish in the top 12 of the world rankings to qualify for the Paralympics and with only three events to come before the team is named for Tokyo, is handily placed.
It would mean so much to get a medal in Tokyo
Sport has always been a family affair for Stewart, born in the same year as dad Dennis won -95kg bronze at the 1988 Olympics in Seoul.
The 30-year-old's sight began to deteriorate in 2016, the result of a condition that progressively weakened his cornea and made it progressively harder for his eyes to focus.
Family has been the force propelling Stewart through tough times, running a judo club with brother Max – the foremost -90kg able-bodied fighter in Britain.
Stewart struggles with spending long periods away from his wife and three children but the chance to bring a Paralympic medal back to Birmingham means the world.
"To be a top athlete in any sport, you have to be quite selfish really," he said.
"You have to push your body to limits, you have to travel and if you've got a family they feel the burden.
"Being away from them is the hardest part for me. I've had to find ways of coping with that.
"I'm not doing this for me, I'm doing it for my family. We're in the journey together.
"It would mean so much to get a medal in Tokyo. Even going to the Paralympics shows I've overcome a downfall in my life, something that's been thrown in front of me I wasn't ready for and still haven't adapted to.
"I strive for that feeling I get when I come off the mat and I know I've put everything I have in me out there. I got that feeling at the Europeans.
"I also strive for the feeling of coming home, seeing my family and my kids and them knowing what I've done.
"They get to touch the medal, and it's a special feeling."
Joint the ParalympicsGB movement
Join
The ParalympicsGB movement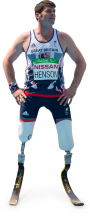 We may include relevant updates from our trusted partners, but will never sell your data on. We take your privacy seriously and you can opt out at any time Privacy Policy